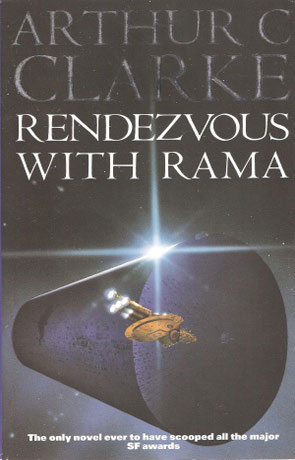 Book details
Rendezvous with Rama

Series:

Rama Series

Publisher:

ISBN:

Published:

Pages:

252

Format reviewed:

Paperback

Review date:

01/02/1999

Language:

English
Books in the series
Awards won
About the author
First published in 1972, Rendezvous with Rama is set in the 22nd century, and the story involves a cylindrical thirty-mile-long alien starship that passes through Earth's solar system. This story is told from the perspective of a group of human explorers, who intercept the ship in an attempt to unlock its mysteries.

This novel won both the Nebula and Hugo awards upon its release, and is widely regarded as one of the cornerstones in Clarke's bibliography. It is considered a science fiction classic, and is particularly seen as a key hard science fiction text.
Review by TC


Probably one of the best works by Clarke. A huge metallic cylinder hurdles through the solar system without responding to our attempts at communication. Somebody will have to rendezvous with it. A classic.
Written on 1st February 1999 by TC .
You may also like