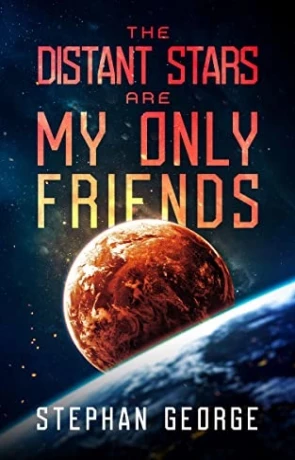 Book details
The Distant Stars Are My Only Friends

ISBN:

Published:

November 2022

Pages:

224

Format reviewed:

E-Book

Review date:

16/12/2022

Language:

English
As a species we are doing a good enough job of messing up our own chances of survival, but what if I told you that we could also mess up another distant planet too? In Stephan George's The Distant Stars Are My Only Friends, Arax is a traveller who does not go into space, but instead projects his consciousness into Taia many worlds away. Arax's motivations may be pure, but that does not mean those higher up in the hierarchy have the same opinion. Can Arax save himself and Taia?
Arax has always been considered a dreamer and although he managed to get on the Traveller Program, he has not risen to a prominent level. That is until he visits the planet of Taia, one similar in many ways to his own, but on the verge of revolution. When Arax finds himself able to influence Taia's actions, he suddenly becomes an asset for the Admiral. Arax must navigate the politics of two worlds if he hopes to survive.
Science Fiction is a big genre that allows for every eventuality. It can be too big and too much can happen. Creating rules and restrictions can really enhance a story. Arax comes from an advanced civilisation, but after a war they are trapped on the planet, the only escape are machines that allow a chosen few to 'travel' to the minds of aliens on other planets. The museums are full of stories from distant lands, but the motivation of the military is to discover new weapons and science.
Arax finds himself in the middle of this conundrum, is he a scientist and story finder, or a tool for the government? There is a naivety to Arax's character that plays an important part in the story. He lacks the social skills to understand subtle conversations or mannerisms. Therefore, it takes him longer to understand what is happening around him. This is a clever way of the reader being introduced to the politics of his planet. We know what is happening before Arax in many cases.
The book is also set on Taia's planet. She too is social awkward and finds herself in the centre of another conspiracy. As the book progresses these two mysteries start to be drawn together as we realise there is more to the science on Arax's planet than the higher ups have ever disclosed.
George does a top job of building two distinct societies. There have subtle similarities and the politics of both flows in comparable way, but they are also different. This balance allows the thriller element of the book to progress nicely, no matter if you are with Arax or Taia. The stories are intertwined and may even become one.
Distant Stars is what I consider well thought out and fun science fiction with an interesting premise of projecting your mind into another at the centre. In some cases, this may have been the only highlight of the book, but George also remembers to write interesting characters and a thriller storyline that builds as the conspiracies are revealed. As a reader you are never sure what is going to happen next or whether either society will be able to survive. This makes the book both pacy and refreshing.
You may also like