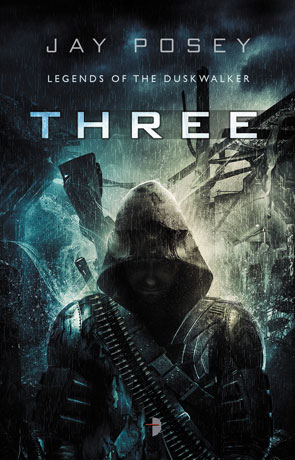 Book details
Three

Series:

Legend of the Dustwalker

Publisher:

ISBN:

9780857663634

Published:

July 2013

Pages:

426

Format reviewed:

Paperback

Review date:

26/07/2013

Language:

English

Age Range:

N/A
Books in the series
It's true that I have a soft spot for a good post-apocalyptic story, there is just something about the setting that appeals to me. I'm clearly not alone in this regard either, post-apocalyptic scenarios are dominating the film world this year while in the world of books we have excellent examples like "Three".
The world has collapsed, heroes are no more and yet when a lone gunman reluctantly protects a young boy and his dying mother against the forces that pursue them, a hero may yet arise.
There is a minimal amount of world building in this first of the Legend of the Dustwalker series, the world is depicted as a decaying ruin where creatures known as "Weir" own the darkness, get caught outside when the sun goes down and you will not live to see it rise again. The cause of this change is not known although pockets of civilisation to seem to exist in protected communities. The Weir are not the only danger either, there is clearly no government remaining and the strong rule the weak with roving bands of mercenaries and organised gangs. There is no mention of a particular date either, the sporadic technology that does exist is almost post-singularity in nature - wired into the body and allowing a link to some form of network along with other abilities - just about everyone seems to be connected, others have been "modified" in different ways. The world does feel re-assuringly dark and decrepit, I was reminded a little of Stephen Kings Dark Tower series with that same sense of fusion between biological and technological, along with a similar way of not giving away too much information.
Three, the enigmatic hero of the book is brilliantly presented as a lone gunman, no idea why he's called "Three" and as with the world-building the author doesn't let too much slip - just enough to keep you hooked. Cass and Wren also make very effective protagonists and it isn't long before you start rooting for these people, the characterisation is top-notch. The bad guys that are chasing them only really make extended appearances towards the end of the novel and this "off camera" style really helps to build the tension. The author does a brilliant job of building the tension right the way through.
The Weir are a great touch too, they are some sort of wired zombie produced through some unknown method clearly connected to the cataclysm. It's all incredibly well constructed creating a wonderful ambience, I was pretty much hooked all the way through and the story keeps you on your toes right through to the rewarding ending.
Three is a fantastic piece of post-apocalyptic fiction, seductively subtle, deliciously dark and simply stunning from beginning to end.
We've been lucky enough to catch up with author Jay Posey for an interview as part of his Blog tour, which you can see here: Interview with Jay Posey. The end of the interview also includes one question for a competition to win a signed copy of the book.
Written on 26th July 2013 by Ant .
You may also like