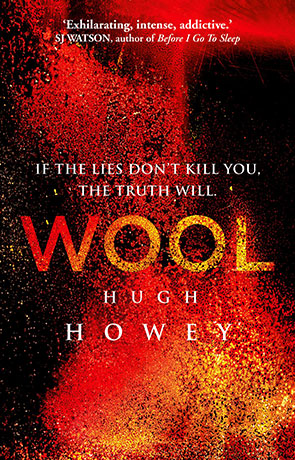 Book details
Wool

Series:

Silo Series

Publisher:

ISBN:

978-0099580485

Published:

April 2013

Pages:

576

Format reviewed:

Hardback

Review date:

02/02/2015

Language:

English

Age Range:

15-
Books in the series
I missed out commenting about this novel when it was first released. There was such a rush by everyone to say how great it was I felt that I would be adding but a small ripple to a raging Tsunami. Everyone from the big papers to the big authors have commented how magnificent the book is, and they are right.
It is also one of the novels that showed the world that self-published works could not only be exceptional but commercially successful too. It won the 2012 Kindle Book Review "Indie Book of the Year Award" and the fact it didn't win many more awards is a sure sign of how we still favour the traditional publishing route. It's actually a merger of five short stories, combined so well it would take a magnifying glass to see the joins.
I finally found the opportunity to read the book for myself while on Holiday in the scorching hot sun of Spain last August. It was everything that the reviews promised.
Set centuries after a devastating apocalypse has rendered the outside a dust filled wasteland of toxic air, the remnants of humanity live in a huge underground "Silo". A whole society has evolved to keep the Silo running, providing food and essentials while also maintaining electricity. Life in the Silo is good. People are warm, fed and provided good healthcare while a democratically elected leader and sheriff oversee the populous. The IT department provide communication while in the depths of the Silo the engineers keep the power on and equipment working. Porters walk the endless levels of stairs, carrying goods to each level.
Screens show the bleak, inhospitable landscape above - a view kept clean by those who commit serious crimes after being forced to wear an environment suit and sent outside.
Wool is a simply incredible piece of fiction, it's bold and beautiful, modern and yet with an air of classic science fiction about it. The World-Building is credible and concise, populated by characters that are as real as it gets. The story really gets you, the prose pulls you along and sucks you in - this is one of those books that you simply cannot let go. Pacing is spot-on, walking that tightrope between back-story and plot development. The author does a great job of building tension towards the finale and I found myself almost breathless finding out what would happen.
Wool is a fascinating tale of the world in a tube, a classic not to be missed.
Written on 2nd February 2015 by Ant .
You may also like