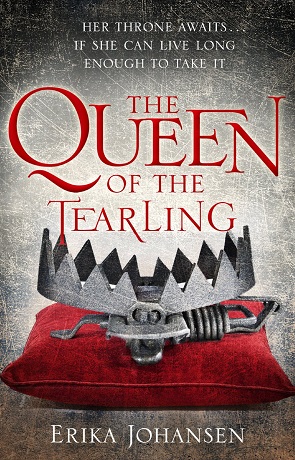 Book details
The Queen of the Tearling

Publisher:

ISBN:

978-0593072691

Published:

July 2014

Pages:

380

Format reviewed:

Hardback

Review date:

18/07/2014

Language:

English

Age Range:

N/A
Kelsea Glynn is the only heir to the throne of Tearling but rather than growing up surrounded by servants and sophistication she has been raised in a woods by foster parents, in secret. Mostly this is due to her real mothers failings - Queen Elyssa was murdered for ruining the kingdom and for 18 years its been ruled over by Regent.
The Regent is Kelsea's uncle but in reality his strings have been firmly pulled by the Red Queen. The Red Queen is a tyrant and sorceress who rules the neighbouring realm of Mortmesme.
On Kelsea's 19th Birthday the remaining loyal guard of her late mother turns up to lead her back into the spotlight and place her on the throne of Tearling. That's if they can keep her alive long enough.
Long before publication, The Queen of the Tearling has already managed to raise quite a stir. It's being turned into a film starring Emma Watson, who not only plays the lead role but is also executive producer after falling in love with the book. It has also had the rights sold in no less than 20 countries. Not bad for a novel that hasn't even been released.
Technically the story is post-apocalyptic in nature, set in our world a long time after some cataclysmic disaster caused worldwide upheaval. This seems long enough ago that civilisation has returned to a less technical level with swords and bows along with a less evolved governement in the form of an Autocracy. Whatever catacylsm caused this apocalypse created a new landmass and it is on this new Continent that the book is based - after it is colonised by those looking to build a better world (an event known as "The Crossing").
Setting the story in our future, changed world is a clever (if not original) idea, creating a sense of famililarity with the reader. While much of modern technology has long since been forgotten there are still shades of the tech remaining. Some people still have some knowledge of the past and the Kindgom of Mortmesme is said to have a great deal more skill in such technology. There have also been a number of books transported over during the crossing, although they are few enough to be extremely rare. The result works well even if it does play to the fantasy tropes of medieval setting and I feel more could have been done to move away from that tired format.
The story itself is engaging and imaginative while the plot moves forward at a fairly steady (if a little sedate) pace. The writing is witty, clever and it doesn't take long to be drawn into this altered earth. Characters are entertaining, especially the main protagonist Kelsea and her protector Lazarus (also known as "the Mace"). The interplay between these two main characters especially is just fantastic. The author does a great job of providing just enough information about each person without giving too much away.
I loved the world the author has created here. It's a powerful vision of a post-apocalyptic humanity and yet has an underlying magic both real and imagined. World-building is effective and quite comprehensive but at times this does feel to be at the sacrifice of the plot. The majority of the novel has the overtones of "introduction" about it.
Kelsea's decisions seem both in tune with her character and realistic - more so than many stories have delivered and its these touches that make the difference and allow the novel to stand out.
The Queen of the Tearling is an accomplished first novel. Its well written, comforting to read and addictive once you start but does at times feels like it is drawn out by extended exposition. Despite these occasional trips the story works effectively and the little touches more than make up for stumbles in pace.
An impressive start to a promising series.
Written on 18th July 2014 by Ant .
You may also like