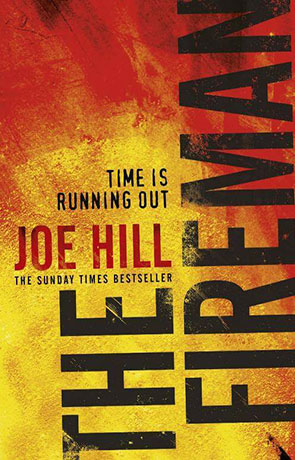 Book details
The Fireman

Publisher:

ISBN:

978-0575130715

Published:

June 2016

Pages:

768

Format reviewed:

Paperback

Review date:

16/05/2016

Language:

English

Age Range:

18-
About the author
Joe Hill is one of those authors who improves with each book and The Fireman is nothing short of spectacular.
A highly contagious spore has begun to spread across the World, a pandemic that see's people break out in beautiful gold and black marks before spontaneously self-combusting. Draco Incendia Trychophyton, more commonly known as Dragonscale infects millions in a short space of time with blazes breaking out everywhere. No one is safe, there is no antidote and seemingly no cure.
School nurse Harper Grayson see's the virus first-hand when someone combusts right outside her window in the school yard. She begins working at the local hospital however before too long she founds out that not only is she pregnant but also she's infected. She's also just met the Fireman. Harpers greatest threat however comes not from the infection but from those who are not infected and will do anything they can to remain that way. Society becomes split into those who are (Burners) and those who are not (yet) infected.
The Fireman has already been picked up by Fox to be turned into a blockbuster film and I can see why, it's as infectious as Dragonscale. I was hooked by the time I'd finished the first chapter. The characters are interesting with realistic imperfections and foiables while also making reasonable decisions about the situations they find themselves in. This is a book that takes it's role seriously and yet lifts itself above the morbidy of many post-apocalyptic tales (yes I'm looking at Cormac Mcarthy in particular) with a wry humour and a stoicism of human spirit. Some people react badly as we would expect them to but they don't quite descend into the depths of eating each other (though a few come close to acts as bad). There is however the ever impending sense of doom and a wonderfully dark atmosphere.
While many books follow the big picture of the apocalypse, The Fireman is all about the microcosmic struggle of Harper and those around her, it's a focused, individual view and much more gripping and personable as a result.
There are enough pop culture references to ground the book in reality which further heightens the sense of dread but again acts of kindness and healthier relationships between some of the characters manage to avoid tipping the balance. The story iteslf is gripping, intelligent and thoughtful, never gratuitous. Dealing with fear and the abuse of power with acts of kindness is one of the big messages of the book, as is human resiliance in the face of adversity. It's also about love, life, loss and grief along with how people can do the worst things with the best, misguided intentions and how others will blindly follow and trust someone else so they don't have to make the hard decisions themselves. The idea of using a tool such as religion as a method of guiding or coercing others also features prominently towards the end of the book as does the effect of religious fever and the human ability to overcome sensible restraint or reliable decision-making.
The Fireman is an exceptional novel, it's moving and thoughtful, drawing you in and not letting you go right up to the superb ending. It's an engaging, emotional journey written by a master of their craft.
Written on 16th May 2016 by Ant .
You may also like