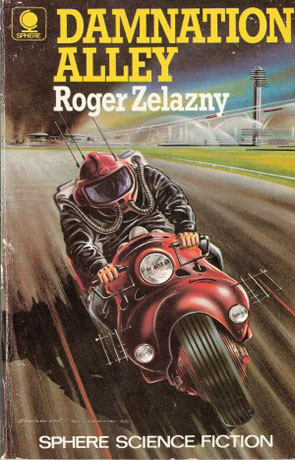 Book details
Damnation Alley

Publisher:

ISBN:

Published:

1969

Pages:

160

Format reviewed:

Paperback

Review date:

19/11/2009

Language:

English

Age Range:

N/A
About the author
Damnation Alley is a post-apocalytic tale of survival by the Hugo and Nebula award winner Roger Zelazny.

Set in the decades after a devastating nuclear war, the former USA is a very different place. With mass destruction, dangerous mutants, large areas of deadly radiation and a worldwide wind preventing anything surviving above 200 feet. This wind brings unpredictable, violent and very sudden storms of everything from fish to large boulders while civilisation exists in small pockets, ruled by a few surviving states.

In the State of California, Hell Tanner is the last surviving Hell's Angel, a convicted killer, thief and all-round bad guy. Hell's one redeeming attribute is his legendary driving abilities and he is offered a full pardon of all his many crimes (known and unknown) in order to drive across a ruined America and urgently distribute a vaccine to plague ridden Boston.

The ride though will take him through "Damnation Alley", a stretch of America that only one other person has ever managed to transverse (at the expense of his life).

Originally written in 1969, Damnation Alley is a truly astounding piece of science fiction literature by one of the great science fiction writers of the 20th century. Originally a short story, it was later expanded by Zelazny due to it's critical success. A film of the same name, and very loosley based on the novel, was created in 1977 (note the date) by 20th Century Fox. The original script that Zelazny wrote was actually very close to the novel but re-writes and production changes made it almost unrecognizable and led to Zelazny trying to remove his association with the film.

Compounded by these difficulties, the film was also released in the same year, by the same company, as Star Wars, and as such was largely ignored.

The novel's portrayal of a post apocalyptic wasteland, together with a real bad guy as the protagonist created a real edge to the story and while the book is quite short at only 160 pages, not a single page is wasted, this novel is pure gold.

With the recent surge in post apocalyptic media (films, games and books) it's good to look back and see how it really should be done. Damnation Alley is a triumph and should not be missed.
Written on 19th November 2009 by Ant .
You may also like