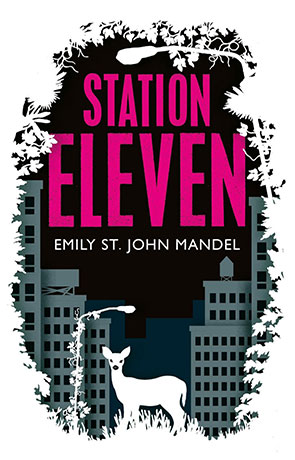 Book details
Station Eleven

Publisher:

ISBN:

978-1447268963

Published:

September 2014

Pages:

384

Format reviewed:

Hardback

Review date:

18/08/2014

Language:

English

Age Range:

15-
Awards won
Day One - The Georgia flu sweeps the globe, a pandemic on a scale not seen before. Reports put the mortality rate at 99%.
Week Two and most of Civilisation lies in ruins.
Twenty years after the cataclysm and pockets of humanity have rebuilt settlements across the US. Things seem a lot less dangerous than they once did. A band of actors and musicians called the Travelling Symphony move through each territory along the coast of Lake Michigan performing shakespeare and classical symphonies to crowds now unused to such displays.
The world may not be quite as safe as it seems and unseen dangers lurk just beneath the surface of post-apocalyptic civility.
Station Eleven moves backwards and forwards through these times, from the years before the apocalypse to twenty years afterwards. This journey charts the twists of fate that connect six people. From famous actor Arthur Leander before the collapse through to Kirsten - a young actress travelling with the Symphony and the dangerous, self-proclaimed "prophet".
It's quite a moving journey, told with a subtle elegance and friendly tone that belies the serious nature of the story. The author has a real talent with descriptive narrative and it's easy to get washed away with the story. This sparkling prose is matched by the intelligence of the story. It feels like a literary novel that happens to be set in a science fiction world, but one that is brimming with ideas. There are all the elements that make up a classic. Murder and fame mix with infamy and King Lear. Doctors and actors with writers and musicians. This book has culture.
It's packed with big ideas and little clever touches, yet it is entirely accessible. This is an easy reading book with serious subjects that manages to rise above the harshness that almost seems to be an ineviatable part of the post-apocalyptic plot. That's not to say it makes light of any serious subject, just that there is a glimmer of sanguineness that reflects the indomitable human spirit.
This is a book about the beauty and creativity of humanity, lit against adversity. It's also about the seemingly insignificant connections we make that will nudge us along the path of fate without us even realising it.
Abve all it's a beautifully written, clever and effortless book full of ideas and messages. And yet its also a book that can be enjoyed by anyone, it is wonderfully accessible and easy to read.
The author manages to capture the readers heart and soul and it's impossible not to be moved by the story at least once. Simply Superb.
Written on 18th August 2014 by Ant .
You may also like