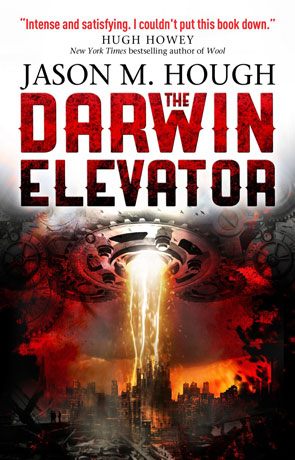 Book details
The Darwin Elevator

Series:

The Dire Earth Cycle

Publisher:

ISBN:

978-1781167632

Published:

July 2013

Pages:

480

Format reviewed:

Paperback

Review date:

18/11/2013

Language:

English

Age Range:

N/A
Books in the series
About the author
It's the 23rd Century and Earth is changed forever following the arrival in Darwin, Australia of the alien "builder" technology that provides a "tether" out into space; humanity finally has a space elevator. No-one knows why, or even if these elusive aliens will return.
Some time later the planet is left ravaged by a plague that turns most of the population into little more than savage animals. Only those who live within a 9 mile radius of the alien technology, on the space stations around the elevator and a few who have seem to have an innate immunity survive unchanged. Here begins the Dire Earth Cycle.
What strikes you about this book right from the start is the quality of the prose - it's quite exceptional, not only in it's disarmingly charming manner but also in the way the author manages to create a thriller with powerful science fiction elements that matches anything currently out there. There is less of a dark edge than most post apocalyptic novels, thanks in part to a subtle humour and thanks in part to a more positive, optimistic air the author imparts.
The distinction between the Orbital space stations and those stuck in their shadow on the ground is marked, those above largely living a life of luxury while those below struggle daily for survival and dream of a life above.
I love how the author manages to create a positive, post apocalyptic thriller and each element is expertly blended creating something unique, an achievement in such a rapidly growing genre. The story packs a real punch too while the characters grow on you right from the start. Add in a fast pace, a twisting plot with a memorable ending and you have a recipe for a damn fine novel, even finer when you realise it's only the first book in a three part series.
A Perfect thriller for those who don't like the run of the mill thrillers or the overly dark post apocalyptic tale.
Written on 18th November 2013 by Ant .
You may also like