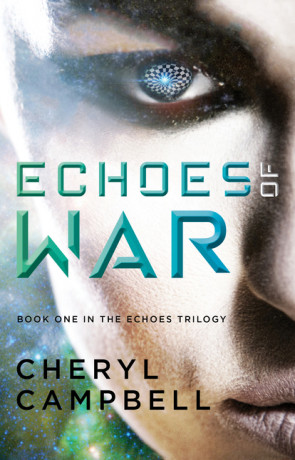 Book details
Echoes of War

Publisher:

SparkPress

ISBN:

978-1684630066

Published:

September 2019

Pages:

400

Format reviewed:

Paperback

Review date:

21/10/2019

Language:

English
In Cheryl Campbell's vision of the future, humanity finds itself enslaved by a genocidal faction of an alien race known as the Wardens. Decades of war has left much of the planet in ruins and threatens the existence of any human (or alien) who offer any form of resistance.
Dani thought she had survived by avoiding the enemy and scavenging enough to live another day. Then she finds out she isn't human, but a member of the almost immortal race known as Echoes (the peaceful side of the Wardens alien race) and nothing in her life seems real anymore. While still coming to terms with her alien origins and the implications for her life, she rescues a boy from becoming a slave, a move that only serves to make her already-tenuous existence on the fringes of society in Maine even more unstable. She is forced to revisit events and people from a past she has no memory of.
She believes the only way to be free of the Wardens tyranny is to unite the Commonwealth's military and remaining civilians and fight for their lives and the future of the human race.
Echoes of War provides an interesting viewpoint to an "occupied earth" story and much of the first quarter of the book is spent building up a picture of this ravaged land and the people who are trying to survive the incursion. The world-building is good and the author does an effective job of overlaying a futuristic waste-land over the top of real world locations (the story is set in Maine). The characters are interesting, if a little simplistic. I had trouble relating to the main characters at first along with the way they acted to the various situations and problems the author threw at them.
One thing that didn't work for me was Dani. She's technically 25 years old, but isn't actually human, instead being an immortal "Echo". She doesn't act like a 25 year-old, more like a young teenager - which might be the authors attempts to highlight her inhumanity and naivety, but didn't help me to endear myself to her. She does however grow through the book and in the end is quite a different person, but I can imagine some people might be put off and not persevere. Some of the mistakes she (and others) make also didn't sit quite right and she didn't really seem to learn from them.
I know this problem can be levelled at so great a number of stories that it's a cliche (the young woman on her own investigating a strange sound in the dark in skimpy clothing and little else) but that doesn't excuse it. I think part of the reason for Dani's immaturity is due to the style of writing, it has a Young Adult focus (nothing wrong with that) but as such sometimes this can appear as simplistic and lacking in maturity. There is however a lot of bad language for a YA book and a great deal of descriptive fights, which is confusing.
As I've said Dani does grow into her role and I found it interesting how these "Echoes" are reborn when the die, as the book journey's back into the protagonists past lives (which she doesn't remember in her current life). The description of this ravaged America provides an effective staging ground for the story and I loved the pervasive feeling of a harsh, burned world and survival on the edge. The story is engaging and thoughtful and there is a lot of action scattered throughout, helping to provide an energetic, lively pace.
Overall Echoes of War feels rough round the edges and confused as to what it's trying to be - is it a YA that's punching up to Adults, or an Adult book that has the style of a YA? If you can forgive this, there is an interesting story set against some really good world-building and I will be interested to see where the author takes the story next.
Written on 21st October 2019 by Ant .
You may also like