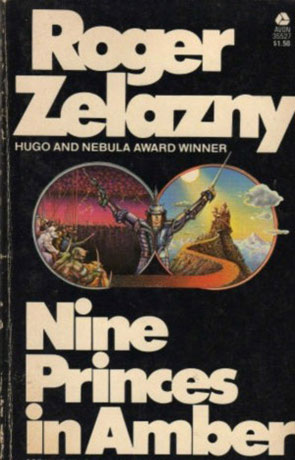 Book details
Nine Princes In Amber

Series:

The Chronicles of Amber

Publisher:

ISBN:

9780722194393

Published:

1970

Pages:

190

Format reviewed:

Paperback

Review date:

01/04/2000

Language:

English

Age Range:

N/A
Books in the series
About the author
I read this book in three nights because I could barely put it down. The story line is exellent, as is the world Zelazny creates. He is no doubt one of my favourite authors and I plan to read all 10 of the novels in this series

The story starts with the main character waking in a hospital bed and having no recolection as to why he was there or who he was. The story continues only for a short while before he finds a way back to the real world - Amber. There he slowly learns that he is the rightfull heir to the throne and part of his memory returns. He remembers that he has many brothers, 8 in all, and that he can trust none of them as they all compete for the same position - King of Amber.

This book is a brilliant introduction and allows the reader to grasp the basic concepts behind Zelazny's ideas. He explains that there are many worlds, all reflections of the one true world - Amber. The infinite number of Shadow worlds can be altered by those with true Amberite blood, and over the course of the book Corwin (the main character through which the story is told) regains his ability to do so.

I would give this book a well earner 10/10 and I think this will be the same for the majority that follow.

And that as they say, is that.
Written on 1st April 2000 by TC .
You may also like