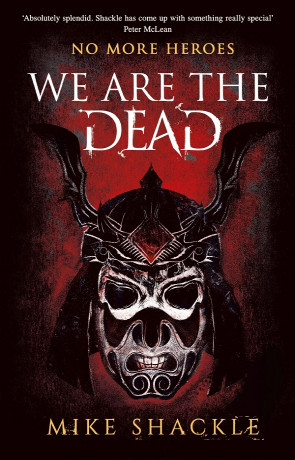 Book details
We are the Dead

Series:

The Last War

Publisher:

ISBN:

978-1473225213

Published:

August 2019

Pages:

496

Format reviewed:

Paperback

Review date:

25/08/2019

Language:

English
Books in the series
About the author
The Fantasy genre has the unwarranted reputation of being staid. If you do not read it, you may think that it is all still elves and dwarves hanging out in some sort of fellowship. Fantasy fanatics know different. There are distinct fashions within the genre that has evolved between high and low, magical and realistic. Fantasy reflects the world that we live in today. What type of fantasy is required as we live in uncertain times; something like Mike Shackle's We are the Dead.
The Shulka are an arrogant warrior people. For centuries they have protected the land of Jia from any enemy that would attack. With the old magic lost, they adapted their military might to protect their people. However, when the Ergil attack it appears that magic has returned. Within one day the Shulka and their army are destroyed. Can the survivors of this massacre continue to exist under the cruel protection of their new masters?
Dead is High Fantasy, but with the darkest of pitches. Shackle's is able to couple the dirt and pain of a Joe Abercrombie with the high style of classic 80s authors such as David Eddings. This is no easy task, but in doing so produces a work of fantasy that feels perfect for 2019. The powerful people of Jia are all either evil or incompetent. Instead, it falls of the shoulders of the average person to return the Jia Kingdom to glory.
Like many fantasy novels Dead has multiple characters with interweaving storylines. This method is rife with pitfalls as one character may be of more interest than another. There is not issue here as Shackle develops each strain to a level that make it interesting to read. From the noble resistance to the terrorist upsurge from the streets. The stand out tale is Tinnstra, a girl groomed for military excellence since childhood only to realise that she is a coward. Her motivations are not noble, but instead self-preservation. It is very interesting to read a character who carries internal tortures within themselves throughout.
Many of the 'good' guys in Dead have blood on their own hands, so it is up to the 'bad' guys to be truly despicable to off balance this. The Ergil are just this. They are even more arrogant than the Shulka once were, but justify it as they have overpowered all that have stood before them. The fact that they have powerful magic gives the book a David versus Goliath feel. Among the Ergil are Chosen, people gifted magical powers. To a person, these characters prove intensely evil and as a reader, you really want them to be fail.
There was something in the book that appeals to me today. Perhaps it is the despair in the book or the uneven fight. If you are looking for a jolly and uplifting fantasy novel, this is not for you. Instead Dead hits you will powerful imagery and little sense of hope. As a reader, you should not want to read about crushing cruelty, but Shackle is able to give just enough light throughout that you need to carry on reading.
We are the Dead is a fantasy novel that is able to blend the modern trends of dark fantasy with the magical styles of the past. In effortlessly doing so, Shackle is able to produce something that feels familiar enough for fans of the genre to enjoy, but also something fresh enough that it feels very 2019.
You may also like