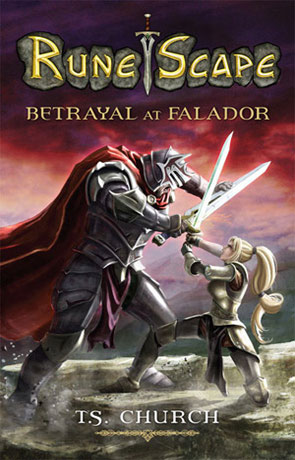 Book details
Betrayal at Falador

Series:

Runescape Series

Publisher:

ISBN:

Published:

October 2010

Pages:

512

Format reviewed:

Paperback

Review date:

27/10/2010

Language:

English

Age Range:

N/A
Books in the series
About the author
Betrayal at Falador is the first novel set within the Runescape universe, written by T S Church.

The Knights of Falador are the beacons of order and chivalry throughout the lands of Asgarnia but their very order is being threatened by the forces of chaos which plot to shatter the peace of the realm.

When a mysterious young woman suddenly appears in the city of Falador in the midst of a raging storm, her arrival launches a chain of events that will alter the fate of the Kingdom forever.

Unless the knights can solve the riddle of Kara-Meir, everything they hold dear may be lost.

Betrayal at Falador is based on the Massively Multiplayer Online RolePlay Game (MMORPG for short) Runescape, which is free to play in a browser with no installation needed. I must admit I haven't played this, or any other MMORPG, I used to play paper based Roleplay games and board based Roleplay games extensively when I was younger but since the birth of the MMORPG I haven't felt I've got enough time this sort of activity would require. I must admit though that Runescape does look tempting, expecially being free and browser based and there appears to be a deep and well written history. According to the Guiness World Records it's the World's most popular free MMORPG.

Even though I have no knowledge or experience of Runescape, I found that this novel worked perfectly well as a stand alone and will appeal to both Runescape fans and fans of high fantasy alike. The first third of the novel is taken up with character and world building and sets the scene for the remainder of the story. After this scene setting the novel evolves into a fast paced monster bashing epic with good use of military strategy and an easy to follow multithreaded plot with enough twists to keep the interest level high.

There are a few rough edges, which is expected being a debut novel, and some of the character names are a little corny, like Sir Amik Varse (Ceramic Vase) and Sir Vyvin (Surviving) but it is aimed at the Young Adult market so this can be forgiven.

Betrayal at Falador is an accomplished work of high fantasy, plenty of action, interesting characters and a strong plot all combine into a very enjoyable book, suitable for anyone over the age of 12 or so and Runescape fans should love it.
Written on 27th October 2010 by Ant .
You may also like