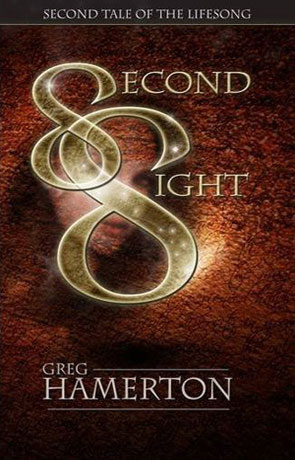 Book details
Second Sight

Series:

The Lifesong

Publisher:

ISBN:

Published:

August 2010

Pages:

640

Format reviewed:

Hardback

Review date:

22/09/2010

Language:

English

Age Range:

N/A
Books in the series
Awards won
About the author
Second Sight follows on from the events of the Riddler's Gift and is the second novel in the Lifesong series by Greg Hamerton.

Tabitha Serannon has not only survived the horrors brought by the shadowcasters led by the Darkmaster, but has become a miracle healer and a fledgling wizard, but already her power is failing and people are dying in her arms. An ancient prophecy leads her beyond Eyri and into the forgotten wider world of chaos-ridden Oldenworld where she must liberate the very essence of life before it is corrupted by chaos.

Although aided in her quest by those she holds dear there are traitors lurking amongst the wizards and a ruthless enemy hunts her with whips of wildfire and she could lose her closest friends with one wrong move. On the journey to mastery, whom can she trust? She has only her faith in love and her fading song to guide her.

I must admit that I have been looking forward to reading this novel more than most of recent times after the magic of the Riddlers Gift and Greg Hamerton really doesn't disappoint. Although there isn't must space given to events of the previous novel, the way the book has been structured allows anyone to read this as a stand a lone book along with a definite ending, but I personally would encourage the reading of Riddler's Gift first.

Second Sight follows a number of main story arcs, you get a good background to the chaotic Ametheus, who's got to be one of the most ingenious bad guys I've ever read about. Without giving away spoilers this twisted genius is a lot more complicated that just a plain evil sorcerer and like the safest road to hell is the one with the gentlest slope, you can see Ametheus' slow rise to anarchistic tyranny is driven largely by incidental circumstance and external forces.

The main story arc is of course Tabitha's journey to rescue the crown of Eyri (stolen by Bevn, the Kings wayward son) and even more importantly free the goddess from her ceaseless torment before it's too late. Travelling into the Oldenworld allows the reader to see a whole new vista that is both beautifully described and vividly realised, that gift that Hamerton has for storytelling shines it's very brightest in this volume. The landscape is very different to the rolling hills, villages and woodland of Eyri, this is a twisted, dark and very dangerous place where even placing a foot in the wrong place can lead you to a fate worse than death.

The transition between past and present is seamless and you never lose the thread of the story. There is a darker feel to the novel as the dangers are on a whole new scale and the way that Hamerton manages to immerse the reader into the story carries you right along feeling every bump, every act of kindness and every act of evil. The characters that the author weaves into the story are really brought to life with wit, intelligence, tenderness and humour. Not just an author, Greg Hamerton is truly one of those rare breed of storytellers, where you forget the words written on a page and simply find yourself within the story and the characters around you your friends and enemies.

You could argue that this has all been seen before, that the high fantasy sub-genre is bursting at it's seams with tolkien-esque series that follow story arcs not dissimilar to this, and you would be right, in fact reading so many fantasy novels can even leave you quite jaded about the whole genre. By the same token though there's a thousand and one novels that try and do something different just to be different, but most of these don't every really work. The Lifesong series don't need to try to be different, nor do they need to hide in tolkiens long and dusty shadow, they are the breath of fresh air in a musty room, a beam of sunlight through a cloudy sky and can proudly stand alongside the genre defining fantasy series, this is high fantasy at it's very best.

Quite simply breath-taking...
Written on 22nd September 2010 by Ant .
You may also like