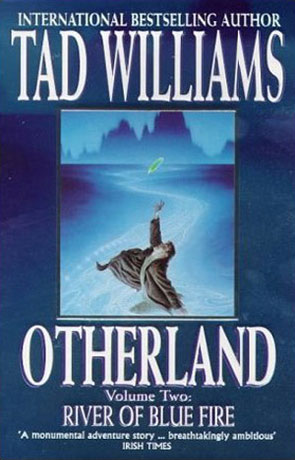 Book details
River of Blue Fire

Series:

Otherland

Publisher:

ISBN:

Published:

1998

Pages:

816

Format reviewed:

Paperback

Review date:

01/07/2001

Language:

English

Age Range:

N/A
Books in the series
About the author
River of Blue Fire is the second volume in Tad Williams Otherland series.

I'm unsure as to why I brought this the second volume in Tad Williams Otherland series (which has just been concluded in a forth volume). I wasn't that impressed with the first volume, which i found to long and lacking in any new ideas. Williams is consistent and continues volume 2 with 800 pages of exactly the same thing. The characters travel from virtual world to virtual world, and while they do have adventure, the story is at a complete standstill. The actual information dislodged in the book can be summarised in a single paragraph:

The bad guys are not just bad, but downright evil. The main characters are as tired with the lack of solid information as the reader and the members of the Grail Brotherhood wants to live forever (hardly a surprise for anybody with half a brain or anybody who saw "Indiana Jones and the Quest for the Holy Grail").

As somebody says in the book. "The gates are all set to random, so we can search forever through these virtual worlds" (or something like that, I'm not going to hunt through all eight hundred pages to find it). This pretty much sums up the idea behind this book. Send the different character groups through endless series of virtual worlds and let them pickup minuscule bits of information in each world. While the tales in them self are interesting and the worlds are interesting and a witness to Willams fantastic imagination, this is simply not enough for eight hundred pages. If not for the fact that I was a long way away from my "to-read stack" I would probably have stopped around page three hundred and picked up something else!

Will I pick up volume three? Probably not. The description on amazon.com sounds pretty much like the description that I've just given of volume two (except that it's made to sound positive). If I do pick it up, I'll probably used it to train my speed reading abilities.
Written on 1st July 2001 by TC .
You may also like