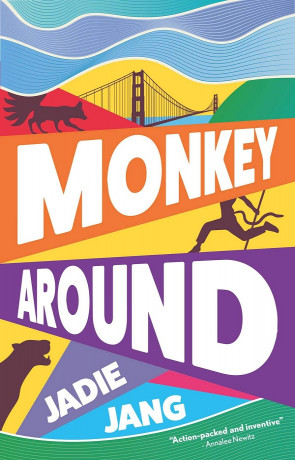 Book details
Monkey Around 

Publisher:

ISBN:

9781781089200

Published:

August 2021

Pages:

411

Format reviewed:

Paperback

Review date:

22/09/2021

Language:

English
Watching television in the 70s and 80s was less about choice and more about just watching what was on. You only had four channels and not much catered for children, we would watch anything. Re-runs of The Land of the Giants or Star Trek became the bread and butter of Sunday viewing. It was not all bad, just a little adult and odd for children. One show was odder than most as not only was it a re-run, but also dubbed. Monkey was a TV show about a magic humanoid monkey and his pals. It was good fun, but not particularly relevant to the 80s, never mind today, but there was something there. Jadie Jang brings a lot of memories back with her own version in Monkey Around, a book that tips its hat to Monkey, but is a very, very different beast.
Maya McQueen lives in modern day San Franciso. Many of us think we know the city, but in this version, it is populated with many hidden magical beings that live among us. Some stay hidden, but others can shift form. Maya's go to form is a monkey, but she can change into anything her mind wants. This is unique among her peers and makes her very powerful. It is not always great to be noticeable when there is a being sucking the souls out of different magical beings and Maya is on the shopping list.
I love Urban Fantasy and many of the books have crime stories at their centre as it is a great way of giving the book structure. I have read books about zombie, dinosaur and even teddy bear detectives, but this is the first who is a monkey. However, Maya is more than just a monkey, this is just one aspect of her personality. In fact, across all the shape shifting characters that we meet in the book, their animal guise only acts to inform part of their personality and is not their only feature.
This is key to the crime element of Around to work as rounded characters make for better suspects. Maya works as a fixer for a local witch who is interested in keeping the balance of peace. Essentially, Maya is a Private Eye, just one with awesome powers. There is a real investigative element to the book, but Maya also gets into some great fights. Nothing punches up a crime novel than a fight between a puma and a werewolf. Around is always happy to throw in some unexpected elements.
The key the book's success is its heart and that is Maya. She is an orphan who does not know herself yet. She has skills and power but is also impulsive and naïve at times. You can feel that there is a lot more to know about this character that will be revealed over further books.
The San Francisco that Jang creates is also of great interest to Urban Fantasy fans. There is a touch of Journey to the West there, but it also takes from other myths and legends from across the world. This hodgepodge of creatures creates tensions and that does not even consider the human gangs. It can be head spinning in places trying to keep on track with all the varied magical creations, but the through line of Maya's investigation keeps the reader on track.
Monkey Around is a book for lovers of Urban Fantasy who like their detective books with a slap of action and a cauldron full of magical shapeshifters. It uses myths to inform the world, but never bows to them, this feels like a very contemporary book.
Written on 22nd September 2021 by Sam Tyler .
You may also like