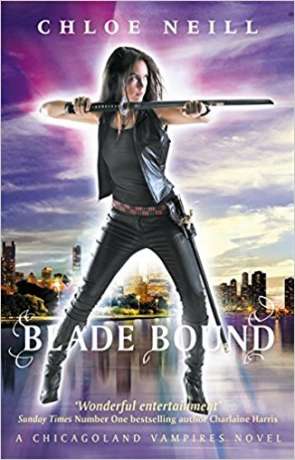 Book details
Blade Bound

Publisher:

ISBN:

978-1473208537

Published:

April 2017

Pages:

384

Format reviewed:

Paperback

Review date:

16/12/2017

Language:

English
Blade Bound is the final instalment of Chloe Neill's urban fantasy Chicagoland Vampire series.  It can be read as a standalone novel, but I recommend you start earlier in the series to get full enjoyment, reading them in reverse order will result in significant plot spoilers. 
The protagonist, Merit, is the Sentinel and protector of Cadogan House, a house of Vampires, perhaps reminiscent of a college in the UK or fraternity house in the US, but with daylight shutters and bags of blood in the cafeteria. 
If you have read any of the previous novels in the series, you won't be surprised to find out that in this book Cadogan House is under attack and it falls to Merit and her friends to defend the House, save Chicago, stop humanity and the supernatural world going to war and incidentally arrange a wedding.  Thankfully there are a few plot twists and turns along the way to stop this having an entirely predictable outcome. 
If you have not read any of Chloe Neill's series, it's worth noting that the vampires are not the stalking people in the night and drinking blood sort from old horror books, but the cultured drinking blood from bottles vampire that are becoming more common in urban fantasy.  These are so cultured that you don't have perhaps familiar tropes of blood lust or the sense that they are a wild animal only temporarily tamed, in fact it is almost incidental that they are vampires at all.  The first book in the series is Some Girls Bite, which gives you the details of how Merit became a Vampire and details of the Vampire Houses. 
This novel brings together the conclusions of a number of plots from earlier in the series, so there is a lot to achieve in a relatively short volume, but it is the strength of the characters that keeps the reader engaged.  Merit is easily likeable, she is not always right but she is always trying to do the right thing.  Her easy affinity for the others in the story means the reader finds themselves warming to her friends also. 
Blade Bound, like the others in the series, is an easy read, it perhaps is not going to challenge your world view or lead to deep introspection, but it does offer an interesting story with great character empathy, despite them mostly being vampires. 
For those who have followed the books to this point, it is an emotional ride with a conclusion that is fully worth the wait. 
You may also like