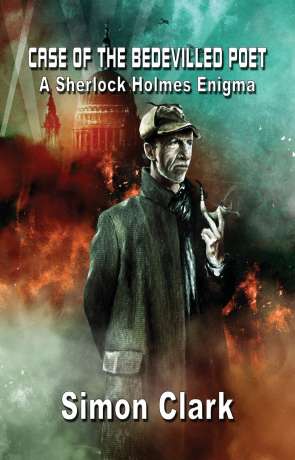 Book details
Case of the Bedevilled Poet: A Sherlock Holmes Enigma

Publisher:

ISBN:

9781910935484

Published:

September 2017

Pages:

108

Format reviewed:

Paperback

Review date:

23/11/2017

Language:

English
Newcon Press' second novella series continues with Simon Clark's story, set in the middle of the London Blitz. The title gives away the nature of what we are to expect – a Sherlock Holmes story, occurring in the twilight years of Baker Street's favourite detective.
During the 1940s, Jack Crofton, a poet and screenwriter is struggling to survive and make a life amidst the ruins of the city around him. He has a good friend in Bill Tulley and has found a girl he likes, an actress called Rowena, and is managing matters as the war swirls around him.
But then, the world turns on Crofton. An abrasive encounter with an army corporal becomes hostile. Crofton flees, but finds other individuals stepping out of their reality to confront him and hound him wherever he goes.
Crofton escapes, finding brief respite with two older gentlemen who claim to be Sherlock Holmes and Doctor Watson. They offer to help Crofton with his 'case'.
When the situation worsens, and Rowena is injured in a freak accident, Crofton revisits the old men and enlists their help after all.
The ensuing narrative, fluctuates between supernatural and psychological horror, but maintains Crofton's sense of self worth at its centre. This is a story that intentionally blurs the line between the real and the unreal, offering us an explanation of Crofton's being deluded or these circumstances being the actual events. Clark uses the full bag of writer's tricks to maintain this balance, employing subtle shifts in the descriptive language to signify some of the implied paranoia and changing mood of Crofton.
The decision to involve Holmes and Watson might have been a mistake for some writers. Utilising the iconic detective duo as characters can overshadow a writer's plot. But here, portraying these two in their twilight years or as fictitious charlatans or both, offers us something new and by keeping both in the supporting roles, Clark is able to focus on his own story. It is only in the title that Conan Doyle's greatest character is allowed to colour our perception of what we might come to expect.
The rapid pace and whirl of events conveys a sense of high stakes as Crofton battles for his soul amidst an array of mythological references. It is here that the reader might struggle. Clark is involving a vast array of establish iconography and portraying Holmes, unshackled from a declining Watson, as something of a spiritual rationaliser or expositionary akin to Mulder without Scully, which doesn't fit with my image of his character from Conan Doyle's other work. Whilst the latter (The expositionary) might be appropriate comparatively, the leaps into the fantastical are somewhat jarring at times as the realism of the story becomes more and more tenuous, leaving you with the internal explanation of inner demons and hallucination. The story returns to this at the end, solving the circumstances and making all the contrived characters vanish with a flourish so as to leave you with enough of a suggestion that things might have been real.
Case of the Bedevilled Poet: A Sherlock Holmes Enigma is an interesting story and certainly adds an image to the lexicon of Sherlock Holmes – that of an elderly detective in his last years during the Second World War. For that alone, it is well worth the read. It appears in a beautiful slipcase collection with three other novellas, Cottingley by Alison Littlewood, Body in the Woods by Sarah Lotz, and The Wind by Jay Caselberg, all published by Newcon Press. 
You may also like