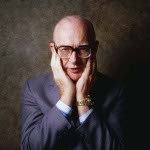 Sir Arthur Charles Clarke was a hugely successful British Science Fiction Author, most famous for His Space Odyssey series. Arthur was also an inventor and futurist and chairman of the British Interplanetary Society.
Arthur was born in the town of Minehead in the county of Somerset, England. Arthur had a passion for Stargazing as a child and reading American Science Fiction pulp magazines. After leaving secondary school he was unable to afford a university degree and so managed to get a job for the Board of education as a pensions Auditor.
Author served in the Royal Air Force during the second World War as a Radar specialist and was involved in the British Early Warning Radar System, contributing to the success of the RAF during the Battle for Britain.
Arthur eventually rose through the ranks to become a Corporal Radar Instructor at RAF Yatesbury, after this he was promoted to Pilot Officer and then Flying Officer and was eventually demobilised with the rank of Flight Lieutenant.
After the Second Word War ended he studied at the Kings College in London where he graduated with a first class degree in Mathematics and Physics.
In 1947 Arthur became the chairman of the british Interplanetary Society where he contibuted enourmously to the concept of Geostationary Satellites and it was Arthur that worked out they would make ideal Telecommunication Relays.
Arthur was already writing books at this stage however they were not only science fiction but also non fiction in nature with the most notable being "The Exploration of Space" and "the Promise of Space". It was in 1946 that his first published short story "loophole" appeared in Astounding Science Fiction which was quickly followed by "Rescue Party".
In 1948 Arthur wrote a story fo a BBC competition called "The Sentinel", this story did not win however it later became the basis for his hugely popular 2001 A Space Odyssey.
In 1951 Arthur devoted his full time to writing, which included childrens books and contributions the the "Dan Dare" series of comic books.
In 1956 Arthur Emmigrated to Sri Lanka, primarily to pursue his passion for Scuba diving (he was a member of the Underwater Explorers Club), and Arthur remained their until he passed away in 2008.
He was an avid Futurist and made many predictions, many of which were published in 1962 titled "Profiles of the Future" which was written as a timetable detailing Inventions and Ideas all the way up to the year 2100.
He was named in 1986 by the Science Fiction Writers of America as a "Grand Master" and in 1989 he was appointed by Queen Elizabeth the 2nd as Commander of the Order of the British Empire (CBE) and also became the Chancellor of the International Space University and was also the Chancellor of the Moratuwa University in Sr Lanka.
Arthur C Clarke will always be remembered as one of the pioneers of Modern Science Fiction, the Creator of 2001, A Space Odyssey and a remarkably accurate Futurist.
Bibliography
Novels

Prelude to Space (1951)
The Sands of Mars (1951)
Islands in the Sky (1952)
Against the Fall of Night (1953)
Childhood's End (1953)
Earthlight (1955)
The City and the Stars (1956)
The Deep Range (1957)
A Fall of Moondust (1961)
Dolphin Island (1963)
Glide Path (1963)
2001: A Space Odyssey (1968)
Rendezvous with Rama (1972)
A Meeting with Medusa (1972)
Imperial Earth (1975)
The Fountains of Paradise (1979)
2010: Odyssey Two (1982)
The Songs of Distant Earth (1986)
2061: Odyssey Three (1988)
Cradle (1988)
Rama II (1989)
Beyond the Fall of Night (1990)
The Garden of Rama (1991)
Rama Revealed (1993)
The Hammer of God (1993)
Richter 10 (1996)
3001: The Final Odyssey (1997)
The Trigger (1999)
The Light of Other Days (2000)
Time's Eye (2003)
Sunstorm (2005)
Firstborn (2007)
The Last Theorem (2008)

Omnibus editions

Across the Sea of Stars (1959)
From the Ocean, From the Stars (1962)
An Arthur C. Clarke Omnibus (1965)
Prelude to Mars (1965)
The Lion of Comarre and Against the Fall of Night (1968)
An Arthur C. Clarke Second Omnibus (1968)
Four Great SF Novels (1978)
The Space Trilogy (2001)

Short story collections

Expedition to Earth (1953)
Reach for Tomorrow (1956)
Tales from the White Hart (1957)
The Other Side of the Sky (1958)
Tales of Ten Worlds (1962)
The Nine Billion Names of God (1967)
Of Time and Stars (1972)
The Wind from the Sun (1972)
The Best of Arthur C. Clarke (1973)
The Sentinel (1983)
Tales From Planet Earth (1990)
More Than One Universe (1991)
The Collected Stories of Arthur C. Clarke (2001)