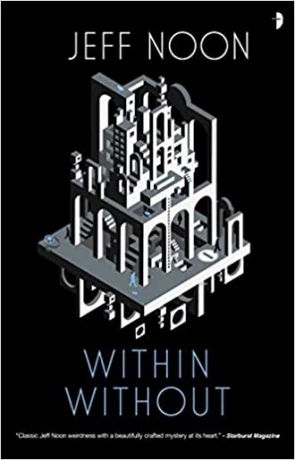 Book details
Within Without

Series:

Nyquist Mysteries

Publisher:

ISBN:

9780857668998

Published:

May 2021

Pages:

373

Format reviewed:

Paperback

Review date:

13/05/2021

Language:

English
Books in the series
I have conversations with my colleagues and a surprising number of them are dismissive of Science Fiction as being too farfetched and complicated. This is not true, as it is such a wide genre. There are Sci Fi books that will cater for readers who only want a touch of the unreal, but there are also books that cater for those that seek the strange. Worlds of sliding barriers and literary characters living in your head. These books are reserved for the fans of odd fiction, fiction like Jeff Noon's Within Without.
John Nyquist is on another case and this time it has taken him away from his familiar unfamiliar, to the city of Delirium that is even strange to him. Along with his assistant, Teddy Fairclough, Nyquist must help famed actor Vince Craven get his glamour back. This being a spiritual glamour that Craven had physically attached to him. How do you find something as fleeting as glamour in city that is ever shifting?
Noon opens Within Without in a way that makes sure the reader should be prepared for what is about to come. Nyquist and Fairclough arrive at the crammed station of Delirium and are funnelled through tight corridors. They shuffle sideways for what could be hours. To anyone who has stepped off a train in London during peak time, it feels eerily family, but also eerily unfamiliar. This is the tone that Noon specialises in. The world of Nyquist feels both like a classic crime noir from the early 50s, but also something quite different.
There is more than one world in the book. The city of Delirium is a shifting place full of borders. Some are permanent, some ephemeral. Some are solid, some ethereal. Trying to solve a missing persons case is difficult as it is, without the map changing around you. This being Noon, even the missing is not a person, but the aspect of one. At the core, the book is classic crime noir, but that does not do justice to the uncanny that surrounds it.
The second part of the book becomes even more odd. This world releases the voice that lives inside everyone's head. It appears that all these voices are based on characters from fiction. Just hope that you get someone nice and not someone mad.
With concepts of magic, shifting worlds, inner voices, glamours and crime; Within Without is not a book that can be picked up and read easily. I would not recommend it to someone new to Science Fiction, but it would certainly appeal to those readers who like to be challenged. There are layers to unpeel in this book that you can view from different angles. Two different readers could have a vastly different opinion about what the book was about.
By layering fiction on a solid crime noir base, Noon guides the reader through a very strange experience. If you find yourself becoming confused or lost, there is always the central narrative to cling to. As a reader, do you want to be immersed in a challenging world unlike our own? If the answer is yes, then take off your armbands and dive into the deep end that is Within Without.
You may also like