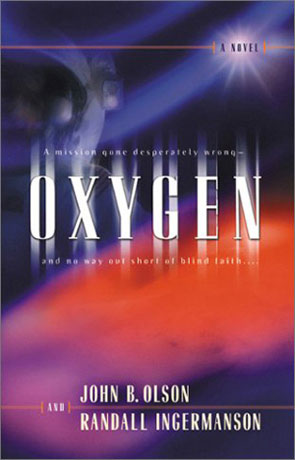 Book details
Oxygen

Publisher:

ISBN:

9780764287596

Published:

May 2001

Pages:

368

Format reviewed:

Paperback

Review date:

30/05/2001

Language:

English

Age Range:

N/A
Oxygen is the first novel in a Christian science fiction series written by John B Olson and co-Written with Randall Ingermanson. This is a review by the previous owner of SFBook.com - TC.

What intrigued me about Oxygen was the fact that it was labelled as "Christian science fiction" - never having meet such a beast before I decide to take on the challenge.

Valkerie always wanted to be an astronaut. So when she gets a chance to go to Mars she jumps at it. Valkerie survives astronaut school and the infighting at NASA and manages to qualify for the flight to the red planet. She and three other astronauts will be spending two and a half year, on their way to, on and returning from Mars. After a rather unlucky launch they mange to get on their way, only to get sabotaged - suddenly they do not have enough oxygen, to get all the way to Mars (in other words: they have an extended Apollo 13 situation).

Oxygen is really well written and the suspense holds throughout the book, my only problem with it was that the "Christian" part of was so low key, that I didn't get a decent chance to get really annoyed at it. What it comes down to is that Valkerie has to realign her faith in God, with her scientific schooling and upbringing, to be able to perform the tasks she have to perform to make them all survive. As an agnostic I found it rather ho-hum, mostly because I've had all these discussions with my wife (who believes in God) a ton of times. But what it all boils down to is that you, as always, pretty much can replace God with what ever it is that gets you through the night (be it the Scientific Method or Little Green Men). Still a good read and don't be scared by the Christian part, this book won't "seduce" anybody into changing their faith.
Written on 30th May 2001 by TC .
You may also like