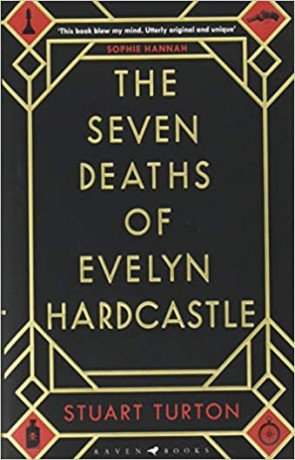 Book details
The Seven Deaths of Evelyn Hardcastle

Publisher:

Raven Books

ISBN:

9781408889510

Published:

February 2018

Pages:

528

Format reviewed:

Hardback

Review date:

28/07/2020

Language:

English
I am not an argumentative fellow and the only two full on blowouts I can remember are well within the geek sphere. Who was the actor alongside Harrison Ford at the start of Raiders of the Lost Ark and how does time travel work? I may have been wrong about Alfred Molina but I am right about time travel. It is just not possible. Instead if you are going to 'travel' through time, you are actually jumping into an alternative timeline and you can never go back to your true path. The Seven Deaths of Evelyn Hardcastle by Stuart Turton opens this can of worms once again and then throws in a murder mystery and historical setting.
When Aiden wakes up, he is not sure where he is or who he is. His body does not feel like his own and his mindset seems to be tackling with that of another. This is because Aiden is inhabiting the body of someone else. Over the next eight days Aiden will live the same events over and over again but from the perspective of a different person. They have all been invited to Blackheath for a party but each night it ends in murder. Can Aiden use his eight lives wisely enough to catch the murderer and escape the time loop? He is not the only player in this game of cat and mouse.
Time travel is a complex business at the best of times and in fiction even more so. So many of the shorthand tricks that you can use in film e.g. Groundhog Day's Sonny and Cher alarm call, are far more complex to pull off. Therefore, Turton should be congratulated on successfully interweaving eight separate stories across one day. The secret is to have events on day one make more sense in day eight as you realise that Aiden himself has been influencing his earlier lives. Rather than shy away from any interaction between Aiden's lives, Turton plays into them. A large appeal of the book is how the events of the future make you reinterpret events earlier in the book.
As you can possibly imagine, all that time travel can be a little confusing but Turton is able to keep events in check. He does this in a couple of ways. Firstly, although events are reoccurring, Aiden has one true through line. His essence is linear and as a reader you can cling to this. Turton has also spent a lot of time making sure the premise works. The book took three years to write and you can understand it. There are no glaring failures of logic that can plague any time travel tale.
Seven Deaths has a wider appeal than the science fiction fandom as it is set in a Downton Abbey like world and has a Agatha Christie murder mystery and the centre. These elements really give the book a sense of time and place. It almost does not feel like science fiction, except for the time travelling crime solver of course. Both my partner and I read the book and it was interesting to see how you can interpret events. We both imagined very different reasons for the time travel; one based in science, the other religion. Turton leaves enough mystery in the book so that you can imagine for yourselves what is behind all the madness.
The mixture of cosy English murder and time travel makes Seven Deaths both familiar and unique. It does read like a very solid take on the Agatha Christie locked room style mystery, but by adding eight perspectives you get so much more from the book. Crime fans are not left disappointed as there is a creative reveal and conclusion, so you are not left hanging. It is the science fiction fans who may crave a little more as they get a tantalising glimpse into the world behind the time loop but never the chance to explore.
You may also like