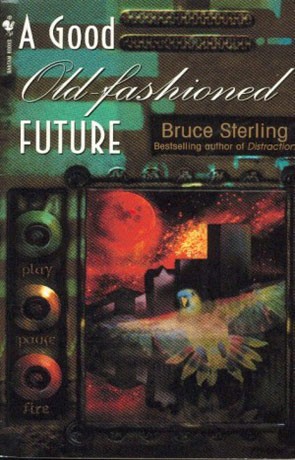 Book details
A Good Old Fashioned Future

Publisher:

ISBN:

9780550000000

Published:

June 1999

Pages:

288

Format reviewed:

Paperback

Review date:

01/11/1999

Language:

English

Age Range:

N/A
A Good Old Fashioned Future is a collection of science fiction short stories written by Bruce Sterling.

Seven stories and 250 pages by Bruce Sterling. I once started on Heavy Weather, but couldn't get into it, but I can easily say that that wasn't a problem with this one.

Maneki Neko
Strange little story about a guy who lives in a favour based economy. One day he is asked to do a favour that is a bit strange..

Big Jelly
Another strange story. Tug is crazy about jellyfish, but he has a founding problem with his artificial jellyfish project. Luckily he might get some Texan oil money poured in to his project. And that might change the world.

The Little Jackal
The Russian mob and a Japanese merchandise copyright protector get together and tries to start a revolution on a couple of small Finish islands.

Sacred Cow
An Indian (from India) film producer goes to England to produce his movies because his he needs the cheap labour. Unluckily he doesn't find England what it used to be.

Deep Eddy
Eddy goes to Germany to deliver some information – to his surprise there's a bodyguard waiting for him at the airport.

Bicycle Repairman
Now this is my favourite story of the bunch. Lyle is a bicycle repairman in a sort of anarchist/free zone and one day he gets a package, with a strange set top box (addressed to Deep Eddy), which he just has to try out.

Taklamakan
If you don't know how to build it. Evolve it!

All of these stories are well written, some of them are a bit silly, but quite funny. The last two stories are not only the most serious and they are also best. A very nice collection with a lot of good ideas, I'll have to try something else by Sterling.
Written on 1st November 1999 by TC .
You may also like