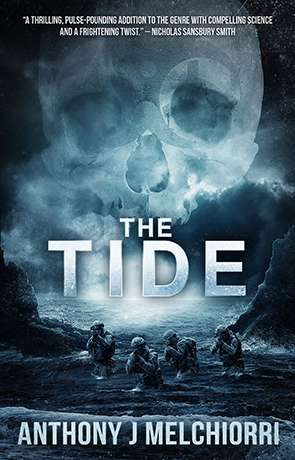 Book details
The Tide

Publisher:

ISBN:

Published:

Pages:

393

Format reviewed:

E Book

Review date:

19/10/2015

Language:

English

Age Range:

18-
Anthony J. Melchiorri's The Tide (Tide Series Book One) is set in the present. It ties Japan's secret attempt to prepare its people in case of a major American assault following the atomic bombings of Hiroshima and Nagasaki. Mysteriously, a protein complex capable of altering the weakest of mankind into the ultimate fighting machine becomes lost to history. That is until an elite team of covert soldiers are called on to investigate a research vessel that has gone dark. Captain Dominic and his crew of bio-weapons specialists discover that there is a greater threat on the seas then just pirates. A contagion has turned a research vessel's crew into something inhuman—boney creatures whose bodies begin to calcify and turn lethal. An enemy that Dom and his team call Skulls.
The threat increases as the doomsday infection spreads throughout the world. In a desperate attempt to protect his crew and find his daughters, Dom takes on a mission to not only save the people he loves most but to also ensure that a cure is discovered before time runs out.
One thing I appreciated most about Melchiorri's The Tide is his attention to the science. While much of the science is over my head, his argument for how Skulls evolve into the ultimate killing machines is pure scifi brain candy! The action is intense and well-paced, and the characters are carefully crafted. Since this is part of a series, I expect the Skulls' threat against humanity to intensify as Dom and his crew/family take the next steps following book one's cliffhanger.
For fans of post-apocalyptic literature with military action and good science fiction, The Tide is a worthy read, indeed.
You may also like