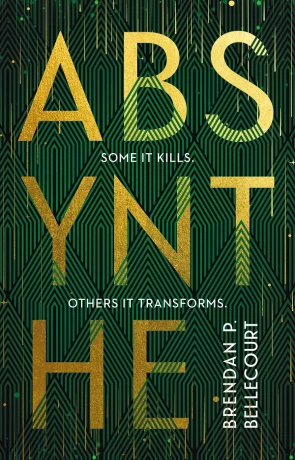 Book details
Absynthe

Author:

Brendan P. Bellecourt

Publisher:

ISBN:

9781801101929

Published:

December 2021

Pages:

406

Format reviewed:

Hardback

Review date:

13/12/2021

Language:

English
I have done my time at university where I drank too much and stayed out too late. Looking back now I can only think about my poor liver and the crazy never die attitude that many of the young have. I was never that adventurous and stuck to beer and whatever was on offer at the Student Union. I certainly never sampled the likes of absinthe, a drink reported to have hallucinogenic properties. The cocktail found in Brendon P. Bellecourt's Absynthe is even more potent. Not only does it send you on a trip, but it can unlock forgotten memories and may even change your perspective on the world. Much like too many red bull and cokes then...
In an alternative 1920's America has come out of the Great War against an Axis of European powers. This was a war not based in the trenches, but that used innovative technology like Mech Suits. Liam survived the war physically intact, but with little memory after a head injury towards the end. He now works for his childhood friend Morgan, the son of successful entrepreneurs, and is making a life with his remaining family member, his grandma. On a night out to celebrate his birthday, Liam partakes of Absynthe and his life and memories will never be the same again.
On initial reading Absynthe appeared like it was going to be an enjoyable alternative history book full of action as mech technology found its way into the early 20th Century, but it does not take long for the book to become far more multi-layered. Mechs are not the only advance in warfare in Bellecourt's universe and it is not even the most important. Liam and the other members of his regiment were injected during the war with a bacterium. Their shared infection allowed them to communicate telepathically, and that is just the beginning.
It soon becomes apparent that not is all as it seems in Absynthe and that the reader cannot always trust what they are being told. Liam is thrust into a world of intrigue and treachery. Does he support the Uprising, a group of terrorists, or his old Regiment leader who has now gone onto become the President? It is not as simple as it first appears, and Liam's loyalties are divided. With the inability to trust what Liam is seeing, parts of this book are complex and layered. As a reader you will need to unpick who you think you can trust and who seems treasonous.
The nature of the weaponised bacteria leads to some sweeping twists within the book that are of a level seldom seen. On more than one occasion Liam's feet are yanked from underneath with no warning. This makes for an unpredictable and tense experience.
As well as a multi-layered science fiction book, Absynthe is also a character piece. Liam is key to the novel, not only in the present, but the flashback scenes that open his memories. As the book progresses both Liam and the reader understand better what type of person he is. The relationships in the book ebb and flow as Liam learns new information that can turn ally into enemy or vice versa.
I would have been happy to have read a simple alternative history book set in Bellecourt's Absynthe universe as it is impressively created. How did the technology come about and why did the various factions ally with one another? This is not that book. Instead by adding the additional elements of reality and unreality, Bellecourt has produced something more akin to hard science fiction for those readers that like to question what they are reading. Even the more experienced sci fi lover will struggle to predict all the twists that this book has to offer, I know I did. Absynthe brings a cerebral quality to the alternative history genre.
You may also like