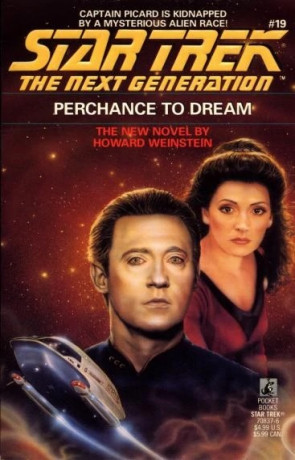 Book details
Perchance to Dream

Series:

Star Trek

Publisher:

ISBN:

9780743420990

Published:

September 1991

Pages:

288

Format reviewed:

Paperback

Review date:

01/12/2020

Language:

English
Books in the series
I have been a fan of Star Trek for a long time and am happy to overlook many of the contradictions and technobabble that it has a habit of spouting but one thing I can never get my head around is why. Why are they on these ships? Why risk their lives? For a scientific vessel the turnover is high and not because of promotions. A lot of the crew die. A lot. If you gave me the option of a job with a 15-25% death rate, I would say no thank you. Perchance to Dream by Howard Weinstein is vintage Star Trek: The Next Generation and finally makes the characters ponder their own mortality.
The Enterprise is on a routine visit to an unexplored planet. Things are so routine that Data and Troy are sent to the surface with three trainees to help. One is Wesley Crusher. The planet is believed to be devoid of intelligent life but when a series of sentient lights flash, it appears that some antient being does call this planet home. The Away Team are whisked away in a flurry of lights to an unknown location and whilst Enterprise are trying to search for them, they must also tackle an aggressive alien race that has arrived from deep space saying that the planet is theirs.
TNG always worked because it had solid science fiction storylines, but also characters that you cared about and who cared for one another. This is truest for Doctor Crusher and her son. Therefore, when Wesley disappears and is potentially dead, it makes Crusher and many of the other members of the crew examine what they are doing. It is one thing for a grizzled veteran in security to be snuffed out just for wearing the wrong-coloured shirt, but a teenager's death is another thing.
One of the themes of Perchance is that of mortality; for the individual and for a species. There are three distinct groups all assessing the question from their own angle. One is a warlike species who are aboard a decerped ship, their last chance for survival is to find a viable planet. Another is a mysterious hive mind that has the power over life and death. Finally, the crew of The Enterprise – once again finding themselves between the weak and the powerful, but in typical Trek fashion, the other parties refuse to acknowledge their own positions.
As a Trek fan, I enjoy these political tugs of war. The books are often as much about diplomacy as they are phasers. There is a keen game of brinkmanship that gives the book a sense of tension. Of course, if you are not a fan of Picard talking down alien races and more of a fan of Kirk shooting down alien races – the pace may be a little on the slow side for you.
Aside from the political comings and goings, Weinstein has produced a solid piece of world building and a couple of interesting alien races. Released in 1991, this is a novel written during the run of the show and it has that feel. It could easily have been an episode. If you like the classic TNG run, then you should enjoy this book. It does not have the cynical or aggressive edge of the recent Trek Universes (and I am a fan of both new and old Trek). Modern Trek has more of a preoccupation with death, TNG did not. Therefore, for a deep diving fan of the IP, it is interesting to read a little about how these classic characters pondered their own mortality.
You may also like