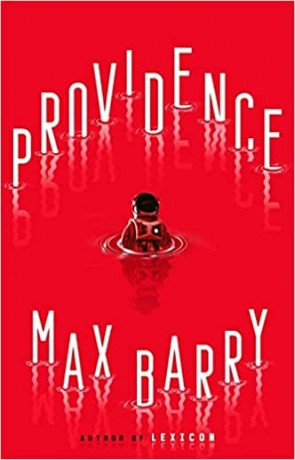 Book details
Providence

Publisher:

ISBN:

9781529331974

Published:

April 2020

Pages:

303

Format reviewed:

Paperback

Review date:

29/04/2020

Language:

English
About the author
Luddites are a group that used to destroy the machines that were taking their jobs. The term is now used as a derivative way to talk about someone who does not get technology but, did they have it right? All us smug computer literate people may have the best jobs now, but how long until an Artificial Intelligence takes on the role? We have an advantage when it comes to imaginative thinking, but any methodical computer work will soon just be another programme. Where will it end? How hard is it to pilot a spacecraft? Perhaps an AI would do a better job than a human?
The crew of the Providence are already heroes even before they set foot on the latest in AI space travel technology. Their job is to travel half a galaxy to take the war to an alien race. The spaceship travels towards the Violet Zone destroying the enemy and winning hearts in the propaganda war back home but how much are the crew doing? Are they there to fight the enemy or just be the human face of the ship?
Science Fiction is often a reflection of the present day. You would not think that a story about an Intergalactic War between humans and a mysterious hive race would be relevant to us today, but it is. Max Barry has created in Providence an action science fiction novel, but also something that reflects what it is to be a modern worker.
The book is told from the various perspectives of the four crew; Talia, Gilly, Jolene and Anders. They all have set skills; computers, weapons, life and captaincy. As the story unfolds, we jump to the past and begin to realise that they may have been chosen not for their skill, but how they appear on camera. Each knows different amounts about their situation; Gilly is oblivious to it all, whilst Talia's job is to keep everyone on an even keel – even if that means lying to the crew.
With only four characters you would think it was a simple story, but this allows Barry the chance to explore each fully. Gilly and Talia are given the most, but you do get glimpses into Jolene and Anders to. The book starts as a slow burn. We learn more about the personalities than the situation. The war is played out in the background within internal monologues and asides. The final character does not come into play until later. Providence herself.
One of the main themes of the story is how we perceive ourselves. Are we individuals who pursue our own agenda or mere pawns to a higher power? Providence is aloof and does not engage, but by doing this we feel the same way the crew do. What is the relationship between the crew and the ship, is it even aware that humans roam within it? This sense of place and being can easily be reflected upon ourselves. Are we the job we do?
There is more philosophical musing in Providence than your typical science fiction novel, but there is action as well. This is especially true towards the latter part as we learn more about the alien race. Barry does a great job of creating something truly alien and very different to humans.
With its emphasis on character development and not action, Providence will not appeal to fans of high action military science fiction. It is more for those that like a slower pace and a storyline that reveals itself over time. Those looking for thrills are rewarded in the final section with some interesting and tense action. You also know the characters well, so the tension is heightened.
You may also like