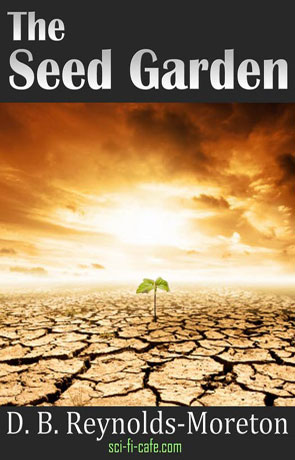 Book details
The Seed Garden

Publisher:

ISBN:

Published:

September 2011

Pages:

Format reviewed:

E Book

Review date:

05/09/2012

Language:

English

Age Range:

N/A
About the author
A while ago now I reviewed a surprisingly entertaining novel called "The Insoculation Syndrome" which detailed a tale of an astronaut stranded on a alien planet.
The Seed Garden starts in a very similar fashion, Jed's ship malfunctions and his only hope for survival is to jump in an escape pod and look for a nearby habitable planet. Luckily he finds a barren, uncharted ball of rock which has a breathable atmosphere and so with no hope of rescue he looks to survive in this lifeless desert which seems to spread across the whole planet.
It's not until Jed dies that things begin to look up and this innocuous and lifeless planet holds on very big secret indeed.
While the setting may be similar to the previous book as is the authors distinct voice, everything else is quite different, and none more so than the story itself. Grand would probably be the most fitting way to describe the plot, it feels very much like a story from the golden age of science fiction as penned by Asimov, Clarke or Heinlein perhaps. It's difficult to describe without giving too much away (something I always try to avoid doing) but suffice to say it was a pretty big eye opener.
The prose is intelligent, confident and manages to convincingly portray both the lonely survivor and alien hosts, complete with the coldness of an alien mind and the "alienation" that Jed sometimes feels. The book is fairly brief and the pace fast which resulted in me reading the book in just one evening.
The Seed Garden is pure science fiction; grabbing a good idea and running with it, exploring the idea in detail then wrapped in a persuasive plot and driven by a stylish and absorbing character. The story then cumulates in an abrupt and yet grand, rewarding finale that will stay with you long after the book as been completed.
Written on 5th September 2012 by Ant .
You may also like