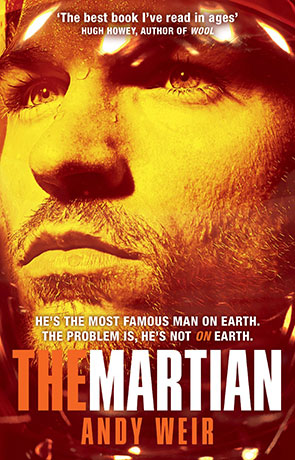 Book details
The Martian

Publisher:

ISBN:

978-0091956141

Published:

August 2014

Pages:

384

Format reviewed:

Paperback

Review date:

02/03/2015

Language:

English

Age Range:

13-
About the author
The Martian is one of those books that if many authors had attempted it, wouldn't have worked. The majority of the novel follows one man surviving on Mars with little more than a shelter, 2 rovers, a few space suits, air, water and potatoes. There are no monsters, no antagonists (unless you count the planet itself) and very few props.
While this might not sound like the most riveting read, its actually one of the most gripping, intelligent and above all entertaining novels I have read in quite some time.
It feels so plausible, like NASA had contributed with every step. The amount of research the author must have put in is staggering. Told from the first person of the only (temporary) inhabitant of Mars - Astronaut Mark Watney - his dry humor helps a great deal to not only create a bond between reader and protagonist but give life to the story too.
His descriptions of the many technical challenges he faces sounds like they come from the mouth of a real, live astronaut - entirely convincing. It's this first person narrative that really makes the book, Watney is a guy you just can't help but like. It also helps that the book is grounded in as much reality as is feasible, Watney isn't a super-human and his limitations also help to grip the reader in this journey.
The technical details and issues to overcome don't weigh the book down at all and shouldn't put the casual reader off in the slightest. Technology is explained in a way that is easy to understand for anyone.
What we have here is an entirely original, clever and memorable thriller. It's a fun, fascinating, rewarding read not to be missed.
Written on 2nd March 2015 by Ant .
You may also like