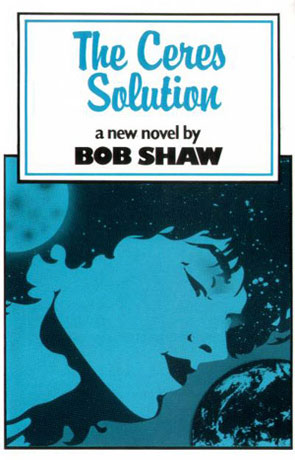 Book details
The Ceres Solution

Publisher:

ISBN:

Published:

1981

Pages:

240

Format reviewed:

Paperback

Review date:

01/09/2000

Language:

English

Age Range:

N/A
About the author
The Ceres Solution is a science fiction novel by Bob Shaw.

It's important to read the copyright page closely, before you start on a book. Knowing the year a story was written (or first published) can greatly change the way you'll understand a story. I had somehow gotten the impression that The Ceres Solution was written sometime in the sixties, which kind of confused me. I was rather impressed with Shaws modern view on disabled people until I noticed that it really was from 1981! Now I unsure if I should be disappointed with his view on women, which seems kind of backwards for a book from 1981.

If you are an old hand a science fiction, there's a good chance that you've heard the theory or read a story that put forward the theory, that our large moon is the reason for development of intelligent life on Earth. If you've read any number of essays by Asimov, larger than two, chances are you have heard about it. In The Ceres Solution Shaw puts forward the opposite possibility, namely that the moon is the reason why earth is in such a bad state.

Shaw is cool - there's always some twist to his story or a genuine new idea a the core of the story.
Written on 1st September 2000 by TC .
You may also like