A Boy and his Dog at the End of the World
By C A Fletcher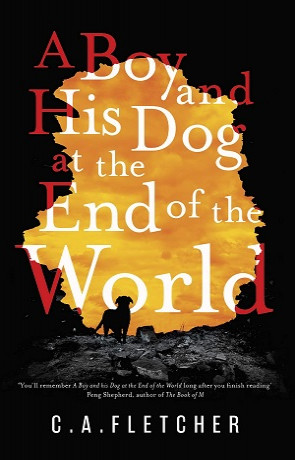 Book details
A Boy and his Dog at the End of the World

Publisher:

ISBN:

978-0356510910

Published:

April 2019

Pages:

384

Format reviewed:

Hardback

Review date:

27/07/2019

Language:

English
As the world tears itself apart in front of us, there is something comforting about reading a good dystopian novel. If we are going to go out, at least it will not be due to zombies, bombs, viruses or all the bees dying out. Then again, it could be all of these together. Once the nuclear fallout has settled there may actually be some of us left. An extra limb or three may prove useful in the ongoing war with the Cockroach Queen. C A Fletcher suggests in A Boy and his Dog at the End of the World that the aftermath will be a lot quieter than this, which brings its own issues.
The vast majority of humans are dead. They did not die with a bang, but with a whimper. It started with a few too many infertile couple until eventually all but a few thousand people could conceive. Griz is one such family who inhabit a remote Scottish island – isolated enough to be safe, but also with the ability to survive off the land. With so few people living in the UK, meeting a stranger is incredibly rare. When one such stranger arrives, they bring gifts, but also betrayal. With Griz's dog stolen, the child sets out to get what is theirs' back.
Dystopian books are inevitably a bit depressing, but Fletcher has managed to take this bleak future and produce a pacy novel that is part adventure and part coming of age. With such a young protagonist, the novel could have drifted into Young Adult territory. However, Griz is a kid of the future who grew up fast. The entire book is told from the perspective of Griz's diary and this is one sensible teen, but also has the habit of being a little hot headed.
The future that Fletcher is able to paint is an incredibly vivid one. Like with so much of the best genre fiction, the world is explored as part of the story. We learn what happened to mainland UK not by being told in descriptions, but via Griz's journey. From the deterioration of Blackpool to the vast forests that have regrown to claim the land once more.
To make a good adventure story you need something that drives the action forwards. In this case a dognapping. It may seem a little unlikely for a dog to cause so much trouble, but in a land of scarce resources, a trained animal offers friendship, work and could even save your life. Griz is a determined individual who will do anything to get that canine back and this supports driving the story on.
An element I enjoyed was Griz's own interest in dystopian novels. With their collection of classic books, Griz debunks what the likes of 'The Road' and 'The Triffids' had to say about the future. This diary is the definite guide to the end. I always find a piece of pop culture acknowledging earlier pop culture enjoyable. Who is to say that this book will not become a footnote in yet another future dystopian tale?
As well being an excellent representation of a dystopian future, Fletcher is able to create interesting characters and a story that rattles along. There are some great action set pieces as well as intelligent twists. I would highly recommend this pacy dystopian book that refuses to be too depressed about the end of the world.
You may also like