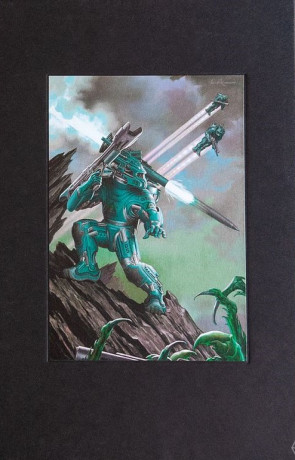 Book details
Starship Troopers

Publisher:

ISBN:

Published:

August

Pages:

272

Format reviewed:

Hardback

Review date:

04/12/2018

Language:

English
Awards won
About the author
Illustration ©2018 Stephen Hickman from The Folio Society edition of Starship Troopers
The Folio Society has produced a beautiful, limited edition of Robert Heinlein's classic book, Starship Troopers, first published in 1959.
In 1998, aged 22, I went to the cinema to see Paul Verhoeven's adaptation of Starship Troopers. Like many other science fiction fans, I had been starved of a cinematic space opera since watching Return of the Jedi (1983).
At the time, there was considerable criticism of Verhoeven's interpretation, with many writers suggesting it had not captured the mood and essence of Heinlein's story. Reading that story for the first time, twenty years later, it is interesting to evaluate those responses and consider my own interpretation.
This edition of the book is introduced by Hugo and Nebula Award winning author, John Haldeman. In his comments, Haldeman acknowledges some of the uncomfortable elements of Heinlein's story, but also acknowledges its profound imaginative and inspirational effect on him as a young writer.
Starship Troopers tells the story of Johnny Rico, a young student who enlists in the mobile infantry to earn the right to be a citizen in Heinlein's future Earth society. The book is a selection of journal anecdotes, told by Rico, about his experiences at school, then as a recruit and later as an officer trainee.
Heinlein's story is underpinned with references to a society structured around service and active participation in its continuance. Heinlein focuses on military participation in this work, but the philosophical message is clear and rendered uncomfortable when linked with the portrayal of military action. There is something jingoistic and romanticized about the violence, something that clearly inspired generations of writers since then. This aspect of the story is triumphantly satirized in the later film.
However, when it comes to the detail, Rico's adventures in Heinlein's prose are slightly different to Verhoeven's re-arrangement. Characters like Zim, Shujumi, 'Dizzy' Flores, Ace and Rasczak aren't the same in the original story; the cinematic treatment altered them into amalgamations of two or three different individuals from the book. In a way, this becomes something of an issue for readers of the book who watched the film first. The visual depictions relate to the story, so you cannot help but see the Roger Young from the movies when it is described in the book.
This is where the new illustrated version from the Folio Society runs into an issue. The limited edition hardback edition is beautifully designed and constructed. However, the artwork on the cover and in the pages has to compete with the cinematic interpretation. The decision to go with a slightly more stylized approach means that the two visions are not particularly compatible.
Despite its flaws, Heinlein's Starship Troopers remains a classic science fiction story that has the power to inspire the imagination of its readers. In a sense, the mixture of images from its cinematic adaptation and the hardback edition published by the Folio Society are all part of its identity.
The Folio Society edition of Starship Troopers by Robert A. Heinlein, illustrated by Stephen Hickman and introduced by Joe Haldeman, is available exclusively from www.FolioSociety.com
You may also like