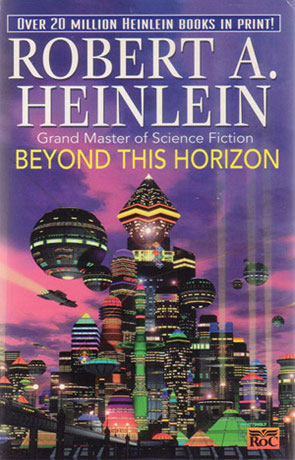 Book details
Beyond This Horizon

Publisher:

ISBN:

Published:

May 1905

Pages:

256

Format reviewed:

Paperback

Review date:

06/02/2002

Language:

English

Age Range:

N/A
About the author
Beyond This Horizon is a classic science fiction novel by Robert A Heinlein.

Another one of RAH's looks into the future with a little twist. The story is about a man named Hamilton and the society he lives in. It is set in the distant future were people still have babies together BUT their genes are manipulated in such a way as to be the best baby the two individuals could have together.

The society also has a Darwinien mindset that the strong survive, and so most everyone goes armed (which actually makes for a very polite society).

The meat of the story is a bunch of social nobodies start a revolution and how Hamilton gets tied up in it. Unfortunatly for the story, after that is done the story drags for to long on how things in Hamilton's life turns out. Over all it is a good read for any Sci-Fi fan, and as always, RAH has made another future that "feels" like it could happen.
Written on 6th February 2002 by TC .
You may also like