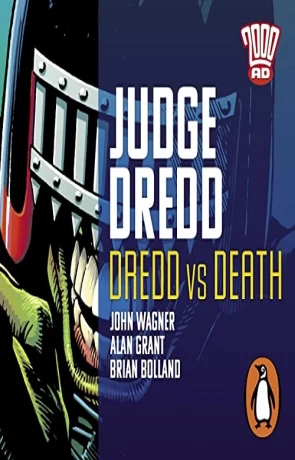 Book details
Dredd vs Death

Series:

Judge Dredd

ISBN:

Published:

September 2022

Pages:

Format reviewed:

Audio Book

Review date:

07/10/2022

Language:

English
Books in the series
About the author
I read and listen to books in all formats, but still prefer the feel of paper in my hand. Audiobooks are great for the commute, but they are just not pacy enough for me, I read quickly, and a narrator often seems to go in slow motion even at 1.5 speed. 2000AD and Penguin Audio must know my brain as their series of audio books are more immersive experiences than novels and when that adaptation is John Wagner, Alan Grant and Brian Bolland's Judge Dredd: Dredd vs Death that means coming face to face with Death itself. It does not get much more thrilling than that.
Mega City One is not an easy place to live with crime rife and only the strict Judges to keep the peace. However, even this city has not come across an evil quite like Judge Death. Death has come from another dimension with his cohorts; Fear, Fire and Mortis to enact their punishment on our world. The crime is life. The sentence, death. Can the Judges led by Dredd fight this new evil? He will have to call in the maverick Psi Judge Anderson to stand a chance.
As a long-time fan of 2000AD and Judge Dredd, whenever a Death storyline started, you know that you are in for a fun, if horrific time. He is one of the big beasts when it comes to Dredd's enemies, possibly the biggest. This adaptation takes the comic strip and somehow manages to recreate the dark comedic feel of the illustrations and brings it to audio. Rather than use pen and ink, Penguin Audio have used a rich wall of sound.
This is no ordinary audio experience of a single narrator following a 400 page story. This is a radio play, an audio graphic novel. The voice talent matches that of the original writers – these are some of the great Dredd authors. Peter Serafinowicz is the headline act playing death. His work as the voice of Darth Maul has made him famous in cult circles, but most people also know that he is a wonderful actor. He is unrecognisable as Death and brings a menace to the part. The likes of Adam Basil and Amber Rose Revah are also great as the Judges. This being a Death story, Anderson has a significant role, so it is up to Revah to carry a large part of the story and she brings the Psi Judge's sardonic nature across perfectly.
High praise must also go to the numerous side parts and sound mixing. This is an evocative listen, with the use of sound effects and booming music to bring tension. The scenes of mayhem and death are hard to listen to in places. Nothing quite like walking in the park to the soundtrack of Mortis melting the flesh of innocents.
Dredd vs Death is a combination of high-quality source material with people adapting it to the same standard. 2000AD and Penguin Audio know that to capture the comic they needed to do more than just a bunch of talking heads. They have done their best to recreate Mega City One and it works. The story is told in a serial style, like the comic. You can listen to it in full or pace the story over several sessions. Rarely have I listened to an audio production with quite such high standard. All involved should be rightly proud of their work and I for one plan to listen to as many of these 2000AD adaptations as I can.
You may also like