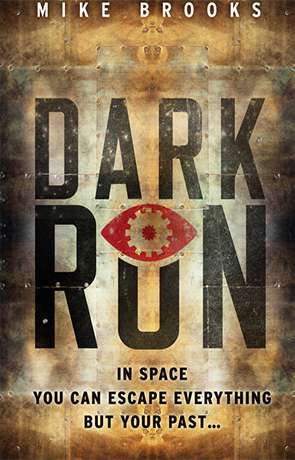 Book details
Dark Run

Publisher:

ISBN:

978-0091956646

Published:

June 2015

Pages:

432

Format reviewed:

Paperback

Review date:

19/08/2015

Language:

English

Age Range:

15-
About the author
From the opening chapter I knew this was going to be good. Dark Run launches the reader into a shady future where bickering governments are working to extend their reach across space while criminals and outlaws try to make a quick buck under their noses and out on the frontiers. Fans of Firefly will be instantly at home on the Keiko, captained by the roguish Ichabod Drift and his crew of misfits. Right down to the rattling engine in need of need parts, the book has a definite atmosphere about it.
The crew is the usual mix of specialist roles, featuring an egomaniac pilot, a hulking thug, and a nervous tech-head. Brooks manages to make them archetypal without being stereotypical, we get the chance to drop into some of their heads throughout the book and find out more of their background. None of them come across so well as Captain Drift though, his chapters show a lot more personality in the writing and he comes across as a very engaging character.
The reader follows this motley crew along a desperate adventure taking them across space, deep underground half terraformed worlds, and into the heart of asteroid bases. Nerve racking smuggling runs, shadowy meetings and audacious cons are the order of business as the crew is challenged like never before, relationships are put to the test and more than one crew member's hidden past is pulled into the light. The book has its share of action and gunfights but the best moments of the story are the times when the crew is working to pull something off and you're rooting for them to succeed.
The writing has some witty dialogue and really sells the crew of the Keiko with their banter and arguing. All the characters have their own personality, though some of them could have been developed a bit more. The plot is well laid out and set across a variety of locations that show the time and thought that has been put into them, even if we don't get to explore any for long. Dark Run is a fast paced smuggler story that delivers all the crooked and devious action you could ask for.
Written on 19th August 2015 by Aaron Miles.
You may also like