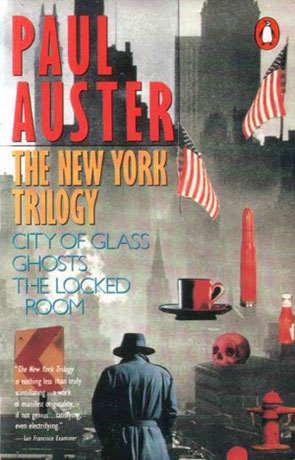 Book details
The New York Trilogy

Publisher:

ISBN:

Published:

1990

Pages:

320

Format reviewed:

Paperback

Review date:

05/01/2001

Language:

English

Age Range:

N/A
About the author
The New York Trilogy is a collection of 3 stories by Paul Auster.

This is the first book that I've read by Poul Auster. I saw him on TV a few months ago, he read from this book and I was deeply fascinated – the way the words flowed and the richness of his voice, gripped me deeply. And then joy, joy, joy, my brother brought me this book and Mr. Vertigo for my birthday. Thanks Bro!

The NY trilogy consists of three stories; City of Glass, Ghosts and The Locked Room – all of them are, on their very surface detective stories, but if you scratch just a tiny bit further, than the surface you will find something entirely different. Actually they are not detective stories at all – calling them detective stories is like calling Caviar "Fish Eggs", it may be true, but it doesn't tell the real story.

What these stories are really about is something entirely else. I guess that every reader reads his or her own meaning in the stories, but to me they are mostly about loneliness and about disappearing into yourself. About turning invisible.

The City of Glass is about a detective story writer Quinn who ends up doing detective work himself. Trying to become the character from his own detective stories, he loses touch with his own reality and at the same time he loses touch with the case and himself.

Ghosts, is about a detective, Blue who is hired to spy on Black, by a man named White. All Blue has to do is watch and watch and watch. For Blue, normally a man of action, this is hard and slowly he is forced to look inwards.

The Locked Room, is about Fanshawe who leaves his wife and yet to be born baby and disappears. It's also about his writings, that he leaves behind to be managed by his boyhood friend. Why did he go? Who is he really?

The stories are also about writing – actually I would call Auster a "writer's writer" if I had to describe him with two words. The stories are extremely well written and the words themself are fairly easily read and understood – the hard part of these stories, is that they forces you to look within you own self and recognise your own loneliness. They are not nice stories at all – half way through The Locked Room I started to hate the story and only wanted it to stop. I just couldn't stand the pain the story contained any more, but I had to go on. I did read all of it, but I didn't like it. Not because it was bad, but because it was so good! It forced me to think and that can be really hard.

I highly recommend this book to anybody who thinks that they have the stamina for these kind of stories.
Written on 5th January 2001 by TC .
You may also like