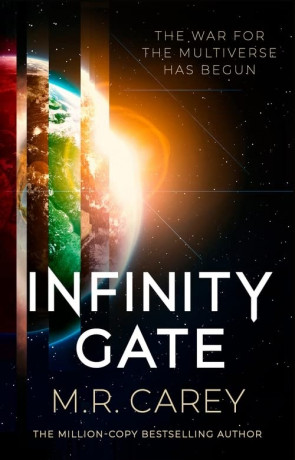 Book details
Infinity Gate

Series:

Book 1 of The Pandominion

ISBN:

9780356518015

Published:

March 2023

Pages:

512

Format reviewed:

Hardback

Review date:

06/04/2023

Language:

English
Books in the series
There is a reason that you should avoid tackling the multiverse in a story as the very nature of them means that the possibilities are infinite. Every decision ever made split off to make two different pathways and so on. A story that spans multiple Earths will have to pick which ones to visit. Do you go for Earths that have been claimed by the decedents of apes, or ones from rabbits, bears, or another animal? M R Carey's Infinity Gate decides to use them all and throw in some multiverse armies and AIs that threaten to wipe them all out to make for an expansive story.
It starts on an Earth likes our, it could be this Earth, or one remarkably similar. Hadiz Tambuwal is a scientist holed up in one of the last remaining alcoves searching for a way to cure the planets ills. Hadiz finds the solution in the form of a gate that can transport people to a parallel universe, but it is too late for this Earth. Hadiz's discovery will have far reaching consequences when it causes ripples in The Pandominion, a league of a million worlds. It will also affect individuals such as a small-time hustler, a bureaucrat in the wrong place and a rabbit-based entity whose only mistake is to make the wrong friend.
Multiple universes are a vast concept to tackle, and Carey has decided to go down the interesting route of exploring lots of them. Not all are visited by the characters, but the mention of The Pandominion and a machine based rival covers millions of worlds. The truth is that even with this vast number that we know about, there are infinitely more out there. Therefore, for the story to work it is going to have to follow individuals.
Gate leaps around from one character to another and even goes as far as to introduce new main characters far into the book. This gives the story a different feel than most. Different characters on different Earths who do not always meet one another. In places it feels like a series of short stories held together by the multiple universe concept. I was reminded of The Martian Chronicles as a concept is explored from various angles, but they are not always linked.
As the story progresses, these disparate elements do starts to be drawn together, and the story starts to feel more conventional. I enjoyed both styles in the books. The explorative style of drifting in and out of a character's life led to some interesting asides. The main plot also works well as you have come to know the characters. It is strange that some of them are given a starring role for 50 pages and then disappear for half a book. It is nice to see them return, but your loyalties are split. Thankfully, Carey can balance all the strings and throw in some twists.
Gate is character driven and entertaining science fiction that you do not know what direction will go in next. Carey makes full use of the infinite paths available to write a story that twists one way and then the next. Learning about the different Earths is interesting enough, but there is also a central story that comes together at the end to make the journey clearer.
You may also like