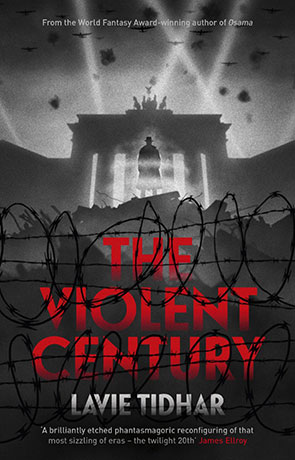 Book details
The Violent Century

Publisher:

ISBN:

978-1444762877

Published:

October 2013

Pages:

352

Format reviewed:

Paperback

Review date:

23/02/2015

Language:

English

Age Range:

15-
About the author
The Violent Century has been one of my Holiday reads, a book I bought when it first appeared but had not had time to enjoy until now. It has to be said that Lavie Tidhar is a master linguist. His voice is confident, it's boldy unique and daring.
With The Violent Century the author turns his attention to war, the second world war to be precise. Like a select few, Fogg and Oblivion were altered by the Vomacht machine. In 1932 a quantum wave swept the globe giving some strange powers such as to create ice and snow, wind back time or even make things dissapear. They were enrolled and trained by the mysterious "old man" as secret agents in a secret war.
There has been a recent surge in alternative "superhuman" novels, none are as dark or as gripping or indeed as alternative as The Violent Century. It's got an espionage style plot that is expanded by the singular abilities of each "changed" person. The book leaps between past and present as Fogg and Oblivion describe events. Most of the book is set during World War two and the author manages to recreate some of the feelings of that war, the cold terror, the darkness and the danger.
The chapters are kept brief with fluid movement between people and times, this helps keep the story moving forward and the pace swift. The characters really make the novel, both Fogg and Oblivion reluctant agents who carry out their duty without any desire to. They make an impressive team especially when merged with a starkly realistic and grim portrayal of the world.
The real beauty of this book however lies in the way it has been constructed, Tidhar shows his linguistic talents by playing with the form of the story and its narrative structure.
The result is breath-taking, a confident and daring espionage journey as original as it is enjoyable.
Written on 23rd February 2015 by Ant .
You may also like