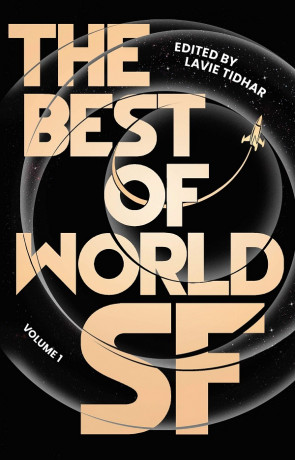 Book details
The Best of World SF Volume 1

Publisher:

ISBN:

9781838937645

Published:

April 2021

Pages:

624

Format reviewed:

Paperback

Review date:

01/04/2021

Language:

English
Books in the series
About the author
The genre of Science Fiction has always been a wide one in terms of ideas. You can set a book on our own Earth with only one or two tweaks to the norm. This Speculative Fiction is Sci Fi, but so are the Space Operas that span eons and are inhabited by alien races. Although the nature of Sci Fi can change, for a long time those that wrote it did not. American and British writers dominated the shelves, and, in many cases, these were white men. With the age of the internet, access to more information, cultures and stories has shown that there is Science Fiction written by other people in the world and it is great. Don't believe me? Then just read The Best of World SF Vol 1.
From robots that visit chat rooms to a living ship outgrowing its own skin, World SF 1 runs the gamut of the genre, but sticks to Sci Fi, not delving into fantasy or horror. Editor Lavie Tidhar has a long history of co-operation with International writers and making their work accessible to a wider market. If this collection of stories indicates the quality beyond the traditional borders, then there is a wealth of talent that any Science Fiction reader will love.
Using the word Best in the book's title is a bold statement and one that could easily slip up an editor, but Tidhar knows his short stories. There is a not a poor story here, it truly feels like these could be the best around, but you know that there is even more out there (Volume 2 perhaps). The collection also has a genuinely nice balance between lighter and harder stories.
My tastes lie towards the lighter and more comedic outings, but those who prefer more thoughtful and deep prose are also served. It is testament to Tidhar's selection process that none of the tales felt impenetrable. Indeed, there is no alienation for the reader at all. One argument could be that a reader avoids foreign fiction as it will be complex and hard to understand. These tales are all accessible and are in many ways the type of work that any hardened Science Fiction reader will be used to, just with a few nuances of change that make them special.
Highlights for me include the wonderful Fandom For Robots by Via Jie-Min Prasad. The story of a redundant robot sitting in a museum, only to discover new life in the form of online forums that discuss robot anime. The Green by Lauren Beukes is also comedic, but in a much darker fashion. It tells the story of a group of workers who harvest deadly plant life only to discover that they are part of the experiment.
There are more hard-hitting stories that showcase the ability for Science Fiction to reflect on our own society, even if it is set in some distant future. The Green Ship by Francesco Verso and translated by Michael Colbert, is a near future tale in which Europe has 3D printed an armada of ships to prevent immigration via the sea. Immersion by Aliette de Bodard reads like hard Sci Fi but dig a little deeper and it reflects upon how some in society will change their appearance to fit in with others and the worse scenario of some cultures expecting others to bend to their aesthetics.
To finish the book off Tidhar chose two the best stories; Prime Meridian by Silvia Moreno-Garcia and If At First You Don't Succeed, Try, Try Again by Zen Cho. Both are authors to look out for. Moreno-Garcia has fast become one of my authors to watch with her wonderful way of creating characters and sense of place. Cho has created in this collection a strong comedic story, but with one of the biggest hearts. There is nothing quite like completing a collection of short stories with a tear in your eye. Cho's story acts as the perfect conclusion to the volume.
As a group, the stories on offer within The Best of World SF Volume 1 are so strong that I could have mentioned at least half a dozen others as stand outs. It is not that common within collections to have no poor stories, but Tidhar had the whole world to pick from and did so wisely. This is a great introduction to what the rest of the world has to offer. The answer is more great Science Fiction for us all to enjoy.
You may also like