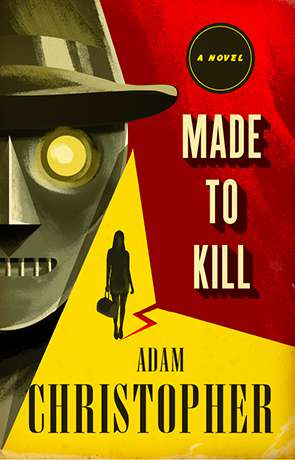 Book details
Made to Kill

Publisher:

ISBN:

978-1783296866

Published:

November 2015

Pages:

280

Format reviewed:

Paperback

Review date:

27/11/2015

Language:

English

Age Range:

15-
About the author
If you can imagine what a science fiction novel written by Raymond Chandler might be like (while Chandler is known to have hated Science Fiction stories rumours persist he did write one) then Made to Kill is about as close as you will likely ever get (short of resurrecting the late author). It pays homage to Chandlers work without being derivitive or contrite. It's a wonderfully crafted story that blends Noir with with the idea of how a robot of that era might look (and feel) and function.
Ray is a private detective, the only PI of the Electromatic Detective Agency, assisted by artificial AI Ada who organises the office and manages Ray — providing a constant voice in his ear. Ray is also the last robot on the planet — it turns out people just don't like robots, even those who don't even look exactly like humans.
Ray and Ada are programmed to make a profit and when a familiar-looking woman turns up with cold hard gold and wants to give the agency said precious metal in return to them finding a missing Actor, they find it hard to resist. Plunged into the Hollywood world of fame and fortune, Ray uncovers a sinister plot and realises he may be in the wrong place at exactly the wrong time.
I love this alternative vision of 1960's America. The only real change is the addition, acceptence and then rejection of Robots. Robots described using 1960's technology of tapes and metal. This technological limitation is used to great effect with Ray's ability to have only 24 hours recordable memory, after which his tape is copied and wiped ready for a new day. He does have some built-in memory but day to day stuff is kept securely bt Ray's partner Ada. Ada is the brains and Raymond the 7 foot, two ton brawn.
There are some sutble, clever cultural references for those looking to find them, my favourite being a nod to one of my favourite authors with the line.
...a feeling somewhere in the diodes down my left side...
The hardboiled dialogue and deadpan approach of P.I. Ray is absolutely spot on and creates the perfect tone. It's also a great deal of fun and a with a steady pace and firm hand guiding the plot it's a fast read.
The ending, when it comes is executed perfectly and raises a big question about how Ray might be changed. I sincerely hope that this is just the start of a series as there is just so much to like and much to learn about Ray, Ada and Electromatic Detective Agency.
Made to Kill is a wonderfully nuanced noir-esque novel with a great plot, lots of humour and great characters, throughouly enjoyable from start to finish.
Written on 27th November 2015 by Ant .
You may also like