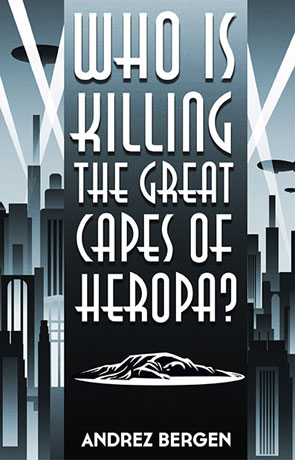 Book details
Who is Killing the Great Capes of Heropa?

Publisher:

ISBN:

B00EPQ7YQ8

Published:

September 2013

Pages:

474

Format reviewed:

E Book

Review date:

23/12/2013

Language:

English

Age Range:

N/A
About the author
Who is Killing the Great Capes of Heropa? The Heroes (and it appears, Villians) of this fine city are being bumped off one and no-one seems to have any idea who could be carrying out this evil deed.
Worse still there are supposed to be fail-safes to prevent any Cape (be they good or bad) from dying - it appears these fail-safes have failed.
One of the things that first hits you about this novel is the way the author has managed to lend his unique voice to a superhero story. This is all the more striking as with his previous novel, his voice is strongly flavored with a "hard-boiled" / film noir edge - a style that works remarkably well within a fictional superhero universe. Echoes of Raymond Chandler in a future dystopian Australia styled through the comic book.
The plot is inventive and the dialogue both quick and quirky, it's just so comforting too - devilishly stylish with a an almost self-depreciating manner. It's cool without trying and the sort of book that makes you feel that bit cooler just by reading it.
The story practically leaps along with very little pause but its the characters themselves that help the book stand out (and stand out it does). Each of the "heroes" are fleshed out very well, which combines well with their superpowers and a sobering sense of mortality you rarely find in a superhero novel. There are some interesting questions asked to, just what makes someone with super-powers a hero or indeed just what makes someone human, how do you tell the real from the virtual are just a few asked by the author.
The Superhero genre is fast gaining pace and many follow a very similar path which I'm pleased to say doesn't apply here. I love how this book is proud to stand out as different from any other in the new sub-genre. It's incredibly engaging, clever and a fantastic piece of escapism - simply super.
Written on 23rd December 2013 by Ant .
You may also like