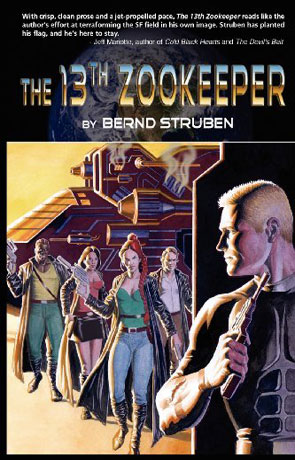 Book details
13th Zookeeper

Publisher:

ISBN:

9781930000000

Published:

February 2012

Pages:

306

Format reviewed:

Paperback

Review date:

03/10/2012

Language:

English

Age Range:

N/A
Mankind has long lost it's connection to mother nature, to the wildlife of Earth and all the natural wonders contained. In an effort to recreate that which was lost a remote planet is terra-formed to resemble mankind's first home and then populated with all of the plants and animals that existed in the stone age - including humans.
This unspoiled world, one of the most important media attractions of the Galaxy, is fiercely guarded by an elite force of 12 "Zookeepers" and a vast fleet of intelligent machines. To get an appointment as a Zookeeper requires years of dedication, discipline and a high degree of intelligence - or failing that a rich and powerful father. Auren Bilder became a Zookeeper the easy way, which is just as well as he never would have found gainful employment otherwise; too busy womanizing and drinking his way through life.
Eventually he's caught "fraternizing" with the natives and is dismissed from his post. He escapes and returns to Zooearth to live amongst the tribes as a God. One the other side of the Galaxy lurk a band of ruthless pirates who may have just discovered the means of disabling the fleet of robots protecting this wildlife oasis from poachers and slavers. With slaves fetching a high price these pirates take over the planet with just Auren left as the planet's remaining defense, the 13th Zookeeper.
There is a really friendly, disarming charm running through the novel, a rich narrative that makes reading this novel a real pleasure. The characters are reassuringly larger than life, the bad guys justifiably bad and the protagonist rich-kid-who-is-forced-to-grow-up. There is plenty of action, entertaining dialogue and some very well written scenes along with an underlying love story all told in a tongue in cheek, dry, no-nonsense fashion.
I loved the ideas presented here and the juxtaposition between stone-age tribes who aren't really stone age and future technology that seems to them like magic is quite special, as are the colourful bad guys.
A great plot, great action scenes and a very amusing protagonist, once I started reading I was hooked right through to the end. Perfect for anyone who doesn't take life too seriously.
Written on 3rd October 2012 by Ant .
You may also like