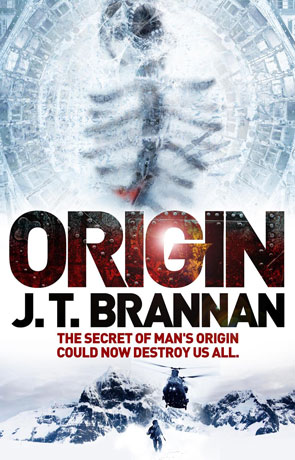 Book details
Origin

Publisher:

ISBN:

9780755396849

Published:

October 2012

Pages:

400

Format reviewed:

Paperback

Review date:

09/11/2012

Language:

English

Age Range:

N/A
Antarctic research scientist Evelyn Edwards always knew that the bleak land of snow and ice held deep secrets locked within it's frozen grasp but when her team finds a 40000 year old body the discovery surpasses even her wildest dreams.
This dream soon turns into a nightmare however as they become the targets of a powerful group who want more than anything else for the secret to remain buried. On the run, alone and desperate for help she turns to her ex-husband Matt Adams who is also a former member of an elite government unit. They are caught up in a race against time that takes them half way across the world, from the dark secret tunnels of Area 51 all the way to Geneva and the Large Hadron Collider.
Origin is more a thriller than anything else, set in the present day the science fiction is very much underplayed for the most part and only really plays a part in the finale (apart from the actual subject matter of the plot). It is a fairly fast paced novel with the protagonists moving from one danger to another through most of the book, only staying one step ahead through the skin of their teeth.
I had trouble relating to Adams, he seemed a little too perfect, very much an army type bad-ass but without sufficient character building to justify many of his actions. Edwards was a more rounded character and the interplay between the two did work very well but overall I felt the characterisation a little lacking. So too the bad guys, while they do come across atypical megalomaniac types I never really felt their passion, their desire for world domination, it felt more like what they did rather than who they were if that makes sense.
The story was inventive and made good use of the various conspiracy theories to create something different and it really felt like the hero of the whole show. I could see Origin making a cracking film, it's lot bags of action, danger and excitement but in a way the book felt like one of those action films, lot's of the above but with little real depth.
Read as a thriller Origin is great, I was just expecting a little more meat on the bones and a little more depth to the protagonists. Recommended for quick read if you like high-octane ride, just don't expect it to change your life.
Written on 9th November 2012 by Ant .
You may also like