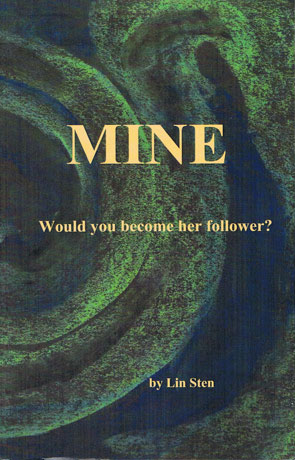 Book details
Mine

Publisher:

ISBN:

Published:

May 2010

Pages:

312

Format reviewed:

Paperback

Review date:

19/03/2012

Language:

English

Age Range:

N/A
Some time ago, I reviewed the novel Mine by Lin Sten and at the time I had mixed feelings about the book, there were some great ideas, a strong central premise and in parts great dialogue however this was all obscured behind some serious lack of editing, poor language and quite ropey running commentary.

Since the review the author has spent a considerable amount of time and effort on improving the novel, including a good deal of editing. The author has been kind enough to send me this updated version and I must say that the difference is staggering. Before I get to this however it's a good idea to give you the gist of the story:

Selena Castillo claims that she is an extraterrestrial and requests an interview by Tony Sturgess, a news paper reporter for the "Natural Inquiry" who specialises in the unusual and outlandish stories. He must decide if Selena is crazy, or just pulling a publicity stunt.

Professor Hal Bronson, on the other hand, is desperate to believe Selena's claim after he is labelled a crackpot for hypothesizing that the SETI silence is due to a global technological catastrophe that every advancing civilization must face. If his theory is correct she might be a witness of the destruction faced by her own kind.

The story itself follows Selena and Tony along the search to discover the truth about her real origins, their relationship and the serious consequences for everyone should Selena turn out to be a real Alien.

There is a strong environmental theme running throughout and some quite clever and plausible ideas. The book follows these ideas and the hypothetical event rather than a defined plot and despite a very relaxed pace and little real action it does work well, as long as you read it as such.

The book still leans toward the Hard Scifi genre, with some very in-depth descriptions and suppositions but these are much more restrained and countered by effective dialogue. I'd still say that this book isn't for everyone, you have to be prepared to read the book as it's intended, an investigation into a hypothetical scenario with a good level of technical detail rather than a novel that follows point a to b to c (ie one that is written by conventional methods).

I must admit that I was completely surprised by just how much better Mine is after all this work, the messages are so much clearer and the characters transformed. The changes have allowed this already great story to rise to the surface, the characters to breathe and the myraid ideas to be given the attention they deserve, recommended to any who are looking for something a bit different.
Written on 19th March 2012 by Ant .
You may also like