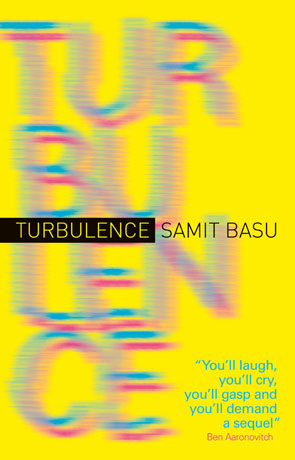 Book details
Turbulence

Publisher:

ISBN:

9781781161197

Published:

July 2012

Pages:

400

Format reviewed:

Paperback

Review date:

12/09/2012

Language:

English

Age Range:

N/A
There seems to be a bit of a resurgence in the superhero story and this new wave of fiction manages to offer a different slant on the traditional tales, combining the modern interpretation of a superhero set within with the contemporary urban fantasy framework.
Turbulance manages to go one better and sets the story in India, offering a unique perspective from the viewpoint of a country rarely written about in western genre tales. The novel sets the premise that during a flight from London to India everyone blacks out and after they have all gone their own way they each begin to discover that they have been given a superhuman gift, directly related to their inner-most desires, dreams or aspirations.
For Aman this means that he wants to use such powers to heal the planet. Nothing is quite so simple though and good intentions can often be just as harmful as bad; he quickly finds that helping some means harming others. Not everyone wants to help either, with the diversity of the human spirit comes those who seek to use their new found powers for their own selfish ends, which could result in one explosive confrontation between those who want to help and those who want to harm.
I loved the way each of these super-powers are thought out, while there are the usual ones like powers of flight and super-strength, others are quite off-the-wall and there are some fantastic ideas. These include powers such as Tia's who has the ability to replicate as many copies of herself as she desires - how great would that be! (as long as you did actually get on well with yourself that is). Then there is "Young Bob", who has the ability to control the weather and his friend "The Scientist who has another "self" who is a genius and wakes up when his body is sleeping.
This unique perspective and unusual ideas combine with a strong if fairly straight forward and somewhat simplistic story and some intriguing characters, although some do appear a little two dimensional while others are quite architypal, lacking originality. The plot is pretty gripping though; Turbulence is an entertaining read that manages to stand out as a well told tale, different enough to encourage anyone to give it a try.
Written on 12th September 2012 by Ant .
You may also like