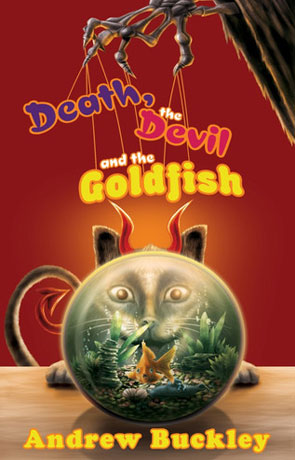 Book details
Death, the Devil, and the Goldfish

Publisher:

ISBN:

978-1620071250

Published:

December 2012

Pages:

250

Format reviewed:

E Book

Review date:

06/12/2013

Language:

English

Age Range:

N/A
Awards won
I'm often saying that there just isn't enough well written comic fantasy, aside from the likes of Pratchett, Holt, Howard and Rankin the laugh-out-load novels still being written are few and far between and in large the genre is being propped up by writers such as Rob Knipe and RJ Astruc.
Thankfully Death, the Devil, and the Goldfish is without a doubt not only the funniest of funny novels I've read this year but it also happens to be a brilliant, engaging story and as well written as any I've encountered to date.
It's also quintessentially English with a witty sarcasm that you just cannot find anywhere else on the planet and features some brilliant regional jokes that are as funny as they are accurate. The humour reminds me of the later works by Holt only a little more restrained, perhaps Holt if Pratchett and Howard were guiding him with Rankin in the background trying to subvert their restraint.
Without giving too much away the story revolves around the Devil managing to get himself a trip to Earth to plot general mayhem and misery via some robot Christmas elves but emerges in the body of one "Fuzzbucket", a fellow of the feline persuasion. Meanwhile on the streets of London the dead have stopped dying and disgraced but gifted London constable Nigel Reinhardt (owner of one prophetic Goldfish) wants to know why.
Combine this with a very unhappy, out of place Penguin and the unwitting inventor of said elves Celina McMannis and you have the recipe for a story that will have you laughing out loud and grinning like a loon at frequent intervals - so much so that it should have a warning sign saying "Caution may cause funny stares if used in public".
One of my favorite parts of the book are those with the Goldfish, inspired little breaks in the narrative that genuinely delight. These short pauses in the story are very effective in keeping the reader attentive and really does help with making sure that you don't loose track of the twisting, inventive, energetic and entertaining plot.
All the major characters are given sufficient room to make the most of their idiums, the Devil is suitably evil while Death has only ever been described as effectively by Pratchett. Neil makes an effective protagonist, gifted and flawed in perfect measure while the multi-millionaire owner of Majestic Technologies (the company who unwittingly create the evil elves) Neville Snell is someone who I can only aspire to emulate.
Death, the Devil, and the Goldfish is the surprise novel of the year and I'm glad that I didn't miss such a gem. It's Beautifully British and if I didn't know better I'd suspect that Tom Holt, Robert Rankin and Terry Pratchett had combined forces and written under a pseudonym. Is that your real name Mr Buckley?
Written on 6th December 2013 by Ant .
You may also like