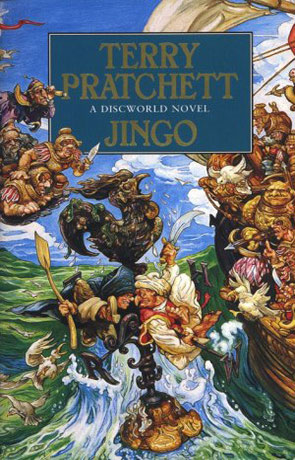 Book details
Jingo

Series:

Discworld

Publisher:

ISBN:

Published:

1997

Pages:

416

Format reviewed:

Paperback

Review date:

01/03/1999

Language:

English

Age Range:

N/A
Books in the series
A Hat Full of Sky
Equal Rites
Eric
Feet of Clay
Going Postal
Guards! Guards!
Interesting Times
Lords and Ladies
Making Money
Maskerade
Men at Arms
Monstrous Regiment
Mort
Moving Pictures
Night Watch
Pyramids
Reaper Man
Science of Discworld 4
Small Gods
Soul Music
Sourcery
The Colour of Magic
The Discworld Companion
The Fifth Elephant
The Last Continent
The Light Fantastic
The Unseen Academicals
THUD!
Wintersmith
Witches Abroad
Wyrd Sisters
About the author
One of the newer books in the (never-ending) Discworld saga. I'm finding it extremely hard to say anything interesting about this book – not because it's bad, but it's a Discworld novel and …well that's it. It's no worse and no better than all the other Discworld novels. Pratchett is funny, as always, the characters are funny, as always, the story is as unimportant as always. The only thing that makes this book stand out a bit, is that it's the most political Discworld story I've ever read. The subject of the story is war and the similarities to Operation Desert Storm are kind of hard to miss. It's not exactly political satire, but Pratchett gets a few things in edgewise.

When a lost city raises from the sea between Ankh-Morpork and the country of Klatch, war starts brewing as both countries lays claim to the lost treasure. But war is a crime and the Watch of Ankh-Morpork suddenly get really busy.
Written on 1st March 1999 by TC .
You may also like