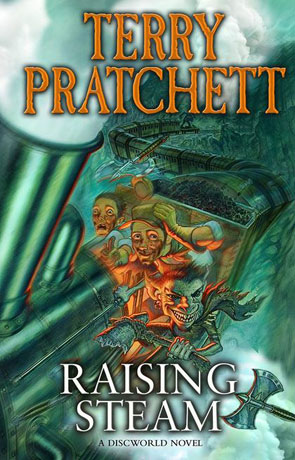 Book details
Raising Steam

Series:

Discworld

Publisher:

ISBN:

978-0857522276

Published:

October 2013

Pages:

384

Format reviewed:

Hardback

Review date:

13/12/2013

Language:

English

Age Range:

N/A
Books in the series
A Hat Full of Sky
Equal Rites
Eric
Feet of Clay
Going Postal
Guards! Guards!
Interesting Times
Lords and Ladies
Making Money
Maskerade
Men at Arms
Monstrous Regiment
Mort
Moving Pictures
Night Watch
Pyramids
Reaper Man
Science of Discworld 4
Small Gods
Soul Music
Sourcery
The Colour of Magic
The Discworld Companion
The Fifth Elephant
The Last Continent
The Light Fantastic
The Unseen Academicals
THUD!
Wintersmith
Witches Abroad
Wyrd Sisters
About the author
It's difficult to imagine that the Discworld began 40 books and 30 years ago, so far it has been a tremendous journey (long may it continue) and Raising Steam continues possibly the finest continuous fantasy series yet created.
One of the things I love about the Discworld is the continuity, the series develops and matures with each book written and the Discworld of "The Colour of Magic" is a very different one to that seen in "Raising Steam". The same can be said of Pratchett's writing too, as with any author their voice matures, changes as they too change and mature. If you follow any author's work for long enough you will see this happen. As with many of his later novels the overall tone is darker and a little more introspective than his earlier works, which for me works well in the Discworld setting. I also admire the way each book deals with a different theme which is taken apart, examined charactertured and put back together as only Pratchett can.
The subject of change is at the heart of this novel - which is somewhat ironic as the few negative reviews I've read about the book complain about this very subject bemoaning that Raising Steam is "different". Of course it is, as is every other of the 39 Discworld novels written before it - nothing wrong with that at all. As the book suggests, we shouldn't be afraid of change, change can often be good - as long as it isn't purely for the sake of advancement.
As the title suggests the big change here is the invention of the Steam Locomotive, a subject that seems to bring the boy (or girl) out of many a grown man (or woman). There is a certain romance about Steam Trains that whispers of simpler times and it's clear that Pratchett is a fan - his enthusiasm for the subject being visible in the prose. While we have a few new characters make an appearance we are led by those we've met before, chief of which is that mostly reformed rogue Moist Von Lipwig along with his wife.
The story is inventive, witty with a steady pace which keeps you firmly hooked. Pratchett is on form with his trademark satire and non-sequiturs throughout the book and although there are less diversions from the main plot than many of books have Raising Steam still resounds with his unmatched eloquence and fearsome intelligence.
Above all, Raising Steam is a highly entertaining novel, it's got bags of atmosphere, brilliant characters and a clever story that once again moves the Discworld forward, highly recommended.
Written on 13th December 2013 by Ant .
You may also like