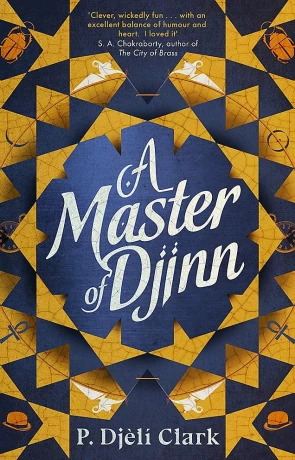 Book details
A Master of Djinn

Publisher:

ISBN:

9780356516882

Published:

August 2021

Pages:

390

Format reviewed:

Paperback

Review date:

26/08/2021

Language:

English
Urban Fantasy is its own distinct genre from Fantasy as it takes the essence of swords, orcs and elves and brings them into an urban setting. Having read a lot of this sub-genre, it has increasingly become a victim of its own tropes. A lot of Urban Fantasy feels the same. P. Djeli Clark has created in The Master of Djinn something that feels fresh. Gone are the slick streets of a modern city and instead this fantasy is set in a 1910's Egypt in which Djinn have come out of hiding and work alongside humans. It appears that the secret to creating fresh Urban Fantasy is to add alternative history, steam punk and magic.
Fatma el-Sha'arawi is one of the only female agents to work in the Ministry of Alchemy, Enchantment and Supernatural Entities. Her job is to investigate crimes that have a touch of the mystical about them. When the members of a secret Brotherhood are killed, she is called in. Being burned to death may at first seem nasty, but natural, except here only their flesh burned. Fatma must use all her contacts to discover who the murderer is and reveal if the powerful mystic al-Jahiz has indeed returned from the dead.
The first thing you notice about Djinn is the wonderful world. Clark has forgone a modern setting and instead concentrated on an incredibly interesting place and time in history. To add further intrigue, this is an Egypt that has started to return to power as they are one of the few countries that embraced and allied themselves with magical beings. It is a 1910's that feels familiar but is also unique. The addition of the Djinn has pushed progress forwards to give the world a steam punk and magical feel.
Even with these new layers, old habits die hard and there is also a vein of Imperialism that runs through the book. The English, French, and Russians all have an interest. They believe that they should be in power and that the Egyptians are lesser people. It feels good to read a book that sees racists and outdated people being put in their place.
All this world building is fantastic, but only acts as a wonderful base to build Fatma's latest investigation. The book is full of interesting characters and most of them are women. Fatma and her partners, both in life and at work, are all well rounded. The mystery is also well written. There may be ram headed Djinn walking around, but the crime itself is a solid whodunnit. Clark dots clues throughout the book and the more observant reader may work out who it is early, but many will be surprised.
With such a rich environment to work in, Clark creates some impressive set pieces. The finale is massive in scale, but there are also some awesome fights dotted throughout. We are introduced to so many innovative ideas that it can be overwhelming at times, but it promises so much more from future outings in the series. A lot of Urban Fantasy is compared to Ben Aaronovitch's Rivers of London series, incorrectly in my opinion. Djinn can be as it has that same intelligent mix of police procedure and magic, and they are both excellently written.
You may also like