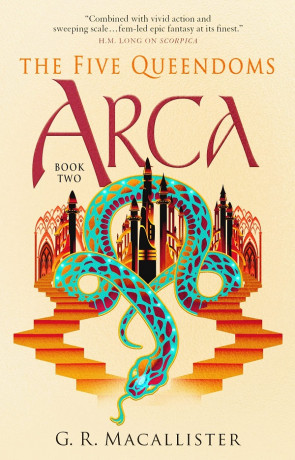 Book details
Arca

Author:

G. R. Macallister

Series:

Book 2 of The Five Queendoms

ISBN:

9781789099348

Published:

April 2023

Pages:

504

Format reviewed:

Paperback

Review date:

29/06/2023

Language:

English
Books in the series
About the author
Fantasy is one of my favourite genres for a reason. It is a genre that can tell epic storylines through several different characters and span the years. G R Macallister's Five Queendoms trilogy does just that focussing on the female characters. This is a land dominated by powerful Queendoms and explores the ebb and flow of dominance between them. Arca is book two and is what you would want from the second outing in a fantasy series – more intrigue, more action, and more consequences. Who wants to be a Queen when you can be a God?
The drought of daughters has ended with the death of a sorcerer. For over a decade no girls had been born and this signalled the rise in power of men, but with females being born across all the Five Queendoms once again, the matriarchy can start to flex its power once more. With the fragile peace between the Queendoms already broken, is there any way back to the status quo, or is this an opportunity for another power to come along?
Dropping back into an epic fantasy takes a little of a reorientation stage, especially with a year or so between books. Arca is a classic multi character fantasy series, this means that there are several characters that you need to be reintroduced to. The confusion is compounded by the start also being told in flashbacks that recap the time the first book took place. Stick with this book and you soon fall back in train with the characters; a former warrior tasked with protecting a Kingling, an ambitious courtier, a new Queen learning to control her magic and many more.
There are a lot of diverse storylines in the book and not all of them meet one another in this outing. Like many fantasy books that jump from plot to plot, you may find yourself being more interesting in some areas more than others. Macallister does a decent job of making all the storylines worth reading, but I did find the warrior sections the most absorbing.
As well as being a continuation of book one, Arca also expands. Five Queendoms and a drought of births is epic enough, but in book two we get to see more of the Gods. Once happy to stay in the shadows, we get glimpses here that their time may be once more. The skirmishes and battles of humans will pale to what the Gods will bring. All this potential is right there for book three.
Arca felt to me like classic modern fantasy with its strong world building and multiple characters arcs. Once again, it was great to see so many female characters on show and Macallister has thought through what a land led by Queens would be like, even the use of language reflects the dominance of women. I would recommend this novel to any fan of epic fantasy. It is a meaty volume with plenty of battles and twists to enjoy. Not all the characters will make it to book's end and power will shift.
You may also like